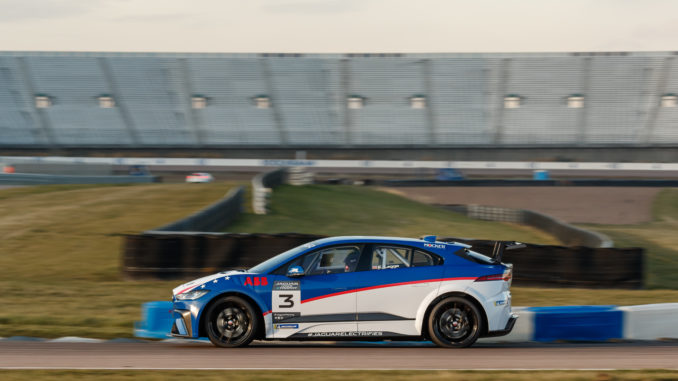 At Rockingham Motor Speedway has been concluded the pre-season test for the Jaguar I-PACE eTROPHY championship that will race with Formula E in 2018-2019 season.
Previously announced entrants Katherine Legge, Bryan Sellers, Cacá Bueno, Sérgio Jimenez and Simon Evans were joined by confirmed multi-car entrants from Saudi Arabia, China and Germany, who are due to announce their team and driver details in November.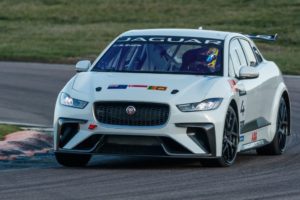 British model and racing enthusiast David Gandy also attended the test and drove the Jaguar I-PACE eTROPHY racecar. Each round will feature a VIP car driven by famous faces from the world of motorsport and beyond.
David Gandy said:
This is a hugely impressive car. I was initially sceptical about electric cars, but now after driving the Jaguar I-PACE and the I-PACE eTROPHY I'm a convert. The racecar is so powerful but it's a friendly car to drive – it's a lot of fun and holding your speed around the corners is a test of nerve. I'm already a Formula E fan but adding the element of production car racing will add something special. I'll definitely be watching.
Gandy, who first attended a Formula E race in Hong Kong in 2016 has also previously raced for Jaguar in the Mille Miglia in the marque's XK120 model.
The Jaguar I-PACE eTROPHY series will be the official support series to the ABB FIA Formula E Championship from December onwards. The new championship will take place over ten rounds in nine global cities, with up to 20 entrants competing for a prize fund in excess of £500,000.
Marion Barnaby, Championship Manager, Jaguar I-PACE eTROPHY said:
I'm really pleased with the performance of the cars and all of the drivers this week. As well as banking valuable test laps, the drivers went through a full grid and race start, getting ready for our first race. We can't wait to get started.
Cacá Bueno, Jaguar Brazil Racing said:
We've been working with the racecar and testing the limits of what it can do this week, ready for our first race in December. Sérgio and I are both aiming to win and the first race will be totally new for all of us but promises to be a lot of fun.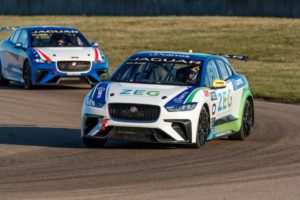 Sérgio Jimenez, Jaguar Brazil Racing said:
This test was about working the car hard, playing with the set up and replicating the city street circuits we'll be racing on when the season starts. Cacá and I make a good team and while the championship is new to all of us, we're confident we can get good results.
Simon Evans, Team Asia Pacific said:
I really enjoy driving the car. It's very different to the racing I've done before which is all about learning things as you go along. This is a whole new learning experience for me – how the power and split works between the front and rear motors is really interesting and is very cool. You don't have the sensory cues that you're used to with combustion engines so you're looking at your speed more and looking for different senses to guide you.
Katherine Legge, RLL Racing said:
Coming into this series at the very beginning as the cars are being developed is really the fun part. The car is so different to anything else I've done before. It's so quiet compared to a combustion engine and it's very well refined, it gets up to speed quickly and it'll be great for the street circuits. We're all super excited for the season to start – we're bringing electric racing to the people, in cars they can go out and buy.
Bryan Sellers, RLL Racing said:
It's good to be back in the car – on day one we were working on the balance of the car and found some good gains. After we put these into practice on day two we really made progress and I think we're in a good place for the first race.
The Jaguar I-PACE eTROPHY begins on 15 December in Ad Diriyah, Saudi Arabia. Final entrants and details of where to watch the championship around the world will be announced shortly.