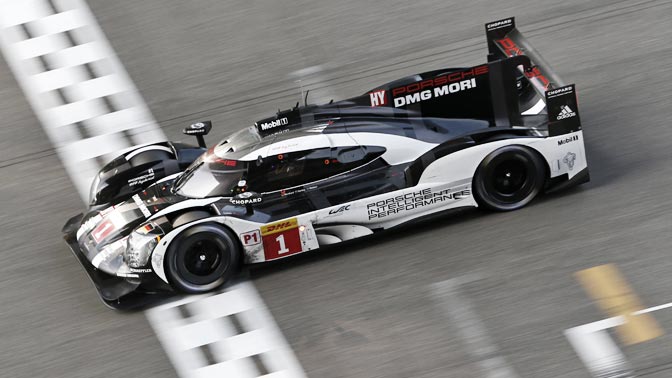 Porsche LMP1 Team Principal Andreas Seidl reveals they are open to possible satellite team for the season before it officially enters the FIA Formula E Championship in 2019…
by John Dagys
Photo: Porsche
October 14, 2017. Porsche has revealed that it is open to the possibility of a satellite team for the season before it officially enters the FIA Formula E Championship in 2019.
The German manufacturer, which will shift its focus from the FIA World Endurance Championship to Formula E, has begun ramping up its preparations for Season Six, with Porsche engineers having spent time with Dragon Racing at the recent official pre-season test in Valencia.
It's believed to be a precursor to a cell of engineers from Weissach also attending races and working closely with its factory driver Neel Jani in the American team, in order to gain first-hand experience and bolster Dragon's engineering capability.
According to Porsche LMP1 Team Principal Andreas Seidl, who has been tipped to head up the manufacturer's Formula E effort, a number of options are currently under consideration.
"I would not say definitely no [to a Season Five-supported entry]; it's open," said Siedl. "Our team is for Season Six. We were there [at Valencia] to have a look around and now we have to make our mind up on how we approach Formula E.

"We used the test as an opportunity to have a first look because we need to get an idea of what Formula E is.

"Once [the WEC] season is finished we need to create a structure for this new project and for this you need a good idea what is Formula E. It is a completely new thing for us so we had a look around.

"The good thing is we have time which is why we decided to enter in Season Six to have enough time to sort it properly."
Seidl indicated that any plans with the Jay Penske-owned Dragon squad have not yet been finalized.
"We're looking at the moment what makes sense for us but it is too early to know as we need to first have a clear idea what is Formula E, when do we want to start testing, which drivers do we use, but there is no rush," he said.

"You need more inside knowledge on how many people you need at home and for development and all that stuff.

"Because some teams seem to be small, but together with suppliers, they have lot of people and you use the resource from somewhere else.

"This is where we have to work that out."
Drivers for Season Six, meanwhile, are likely to come from within Porsche's existing roster.
Jani and Andre Lotterer have both secured Formula E drives with Dragon and Techeetah, respectively, for the coming season, but Siedl stressed that it was not an absolute guarantee to see both of them in Porsche's factory entry.
"For sure the target is to use and to continue the history we have built up with these guys in the next program," he said. "[But] it is not as a given.

"This is why we do not fix the drivers now and we have no rush. We will always look first in-house."
no images were found