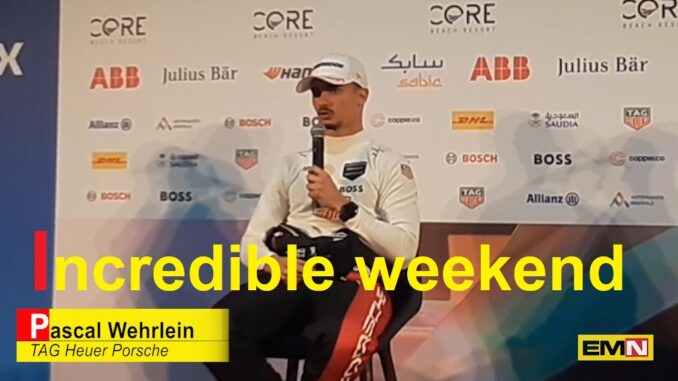 Vi proponiamo una panoramica del padddock di Diriyadh poco prima delle gare e la parola dei primi tre classificati in Gara 2.
Panoramica dal paddock
Una veduta panoramica del paddock poco prima della partenza di gara 1 a Diriyadh.
Di Marcelo Padin
Little disappointed with the second place, said Dennis
You know you're having a really good season when you're a little bit disappointed with P2, said Jake Dennis after repeated the second place of Race 1 at Diriyadh.
In italiano – Leggermente deluso con il secondo posto, ha detto Dennis
Sai che stai vivendo una stagione davvero buona quando sei un po' deluso dal secondo posto, ha detto Jake Dennis dopo aver ripetuto il secondo posto di Gara 1 a Diriyadh.
Di Marcelo Padin
Incredible weekend for Wehrlein
This weekend has been incredible, a double victory. Our race pace was incredible again and today we had the perfect strategy, using the Attack Modes at the right time and not having to use it again after the safety car – that was crucial, said Pascal Wehrlein after the race.
In italiano – Fine settimana incredibile per Wehrlein
Questo fine settimana è stato incredibile, una doppia vittoria. Il nostro ritmo di gara è stato ancora una volta incredibile e oggi abbiamo avuto la strategia perfetta, usando le modalità di attacco al momento giusto e non dovendo usarle di nuovo dopo la safety car: è stato fondamentale, ha detto Pascal Wehrlein dopo la gara.
Di Marcelo Padin
Renè Rast over the moon
I am over the moon to be honest. The team deserved it as they put so much hard work into this and we were executing so well the whole weekend, especially from where I came from in Mexico and on Thursday when we had no pace, to now being on the podium defending against Sam who had 2% more energy – declared Renè Rast.
In italiano – Renè Rast al settimo cielo
Sono al settimo cielo per essere onesto. Il team se lo è meritato perché ha lavorato sodo in questo e ci siamo comportati così bene per tutto il fine settimana, specialmente da dove venivo in Messico e giovedì quando non avevamo ritmo, per essere sul podio difendendomi contro Sam che aveva il 2% di energia in più – ha dichiarato Renè Rast.
Di Marcelo Padin
Ecco le anteprime fotografiche dei video.