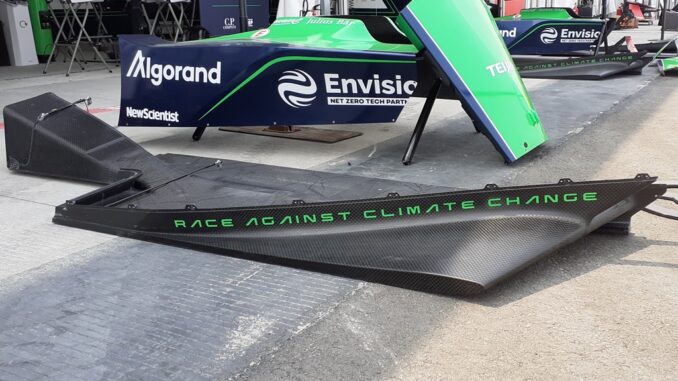 There are many interesting curiosities that we have collected in the days preceding the double heather of the Formula E Jakarta E-Prix. Here is a summary…
One hundred DS Automobiles races in Formula E
At the final race of the first Formula E season, in London in 2015, the then CEO of DS Automobiles Yves Bonnefont announced at a press conference the entry of DS Automobiles through its technology arm DS Performance into Formula E. Back then it was the team DS Virgin Racing, which was succeeded by the DS Techeetah team and from this season by the DS Penske team. In the second race in Jakarta, DS Performance reaches 100 races in Formula E, just like Electric Motor News, and for the occasion, they presented a new livery on the sides of the cars of Stoffel Vandoorne and Jean Eric Vergne.
Instructions for Use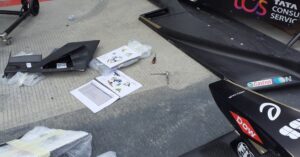 What do you do if you don't know how to help your child assemble the new Lego he wanted to buy? Usually you use the instruction booklet, so that no pieces are missing or left over. In this case, the Jaguar TCS team mechanics must have thought this, who, as you can see, have opened the assembly instruction manual in the "nose" section and proceeded to work in the humid and annoying heat of Jakarta.
Media Center with sea view… and air conditioning
The Media Center of Jakarta is very convenient, set up in Ancol Beach City, a tourist area of the Indonesian capital. In addition to being comfortable and functional and where the air conditioning at the optimal temperature makes the place very comfortable and moreover with a view of the Ancol Bay and the Java Sea. The only problem is having to go out to go towards the paddock and the track… heat and humidity are the masters.
Ondel Ondel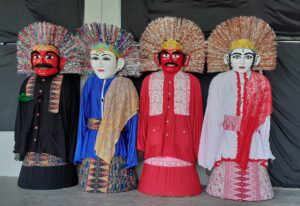 Probably these costumes will be protagonists in the days of the race with fashion shows. We are talking about the Ondel Ondel, the typical costumes of Jakarta that are used both in the Carnival and in various Indonesian national holidays. A great way to introduce local tractions to the world.
Race against climate change
The writing race against climate change is part of the philosophy not only of Formula E but also of the teams competing in the electric single-seater category. Team Envision Racing features it prominently on the lower belly of both team cars, that of championship leader Nyck Cassidy and that of former champion Sébastien Buemi.
Roberto Merhi without a face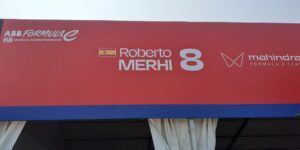 The last moment announcement of Oliver Rowland's replacement for Roberto Merhi in the Mahindra team did not allow the Spanish driver's photo to be applied to the presentation at the top of the respective pits. So instead of the photo you only see the Mahindra red background, with the car number and the driver's name. From memory it should be the first time this has happened in Formula E.
#theEMNteam