Source: James Allen
14 October 2017. The development of the FIA Formula E continues with greater in3terest in the s0eries as season five approaches when Mercedes and Porsche will join the series and the batteries will last an entire race.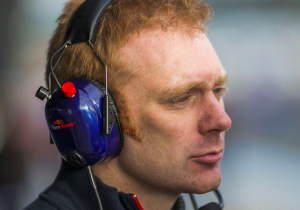 The latest recruit from Formula 1 is Phil Charles, who headed race operations for Toro Rosso until 2016 after a long career at Renault.
He has taken a role as Technical Manager of Jaguar's Formula E team.
Charles worked closely with technical director James Key and was responsible for the track engineering operations through the Verstappen/Sainz years among others. He left the team in summer 2016 due to the pressures of working in Italy with a young family in the UK.
As Formula E grows in interest on people's radars in F1, we caught up with him to find out what attracts a top F1 engineer to the electric racing series.
Why Formula E?
PC: "I have been watching Formula E since it started. I was interested in the technology and liked the one day race format. I enjoyed watching several ex-F1 drivers I knew race against some of the young F1 hopefuls that I had seen not quite make it.

"I have had some F1 offers but nothing that really jumped out. Then when a couple of manufacturers announced an interest in FE I really pricked up my ears.

" I was pleased to get an offer from Jaguar as it is a brand I have always liked and one of the first of the list of premium brands to make the move to FE.

"I am really enjoying it. F1 could learn a huge amount from it. Its got a lot of things right."
So what is your role and how does it compare to F1?
PC:" My job is Technical Manager of the Formula E team – kind of like a chief race engineer and team manager rolled into one. It's a good opportunity to do clever engineering and organise the running of the team – all the things I enjoy."
Apart from the growing interest from manufacturers and sponsors, what do you think Formula E has going for it as a race series?
PC: "Having been here a few weeks I really see the value in the rules. They actually cleverly cut costs without taking away the excitement of racing and still give the engineers scope to be clever and push technology forward.

"Some examples: Having fixed aero surfaces saves a huge amount of money compared to F1 and takes away a big potential performance differentiator between cars.

"There is very little telemetry when the car is running and one day race format means that there is little advantage in having a big operations room looking at the data live in sessions. Plus there is no time to simulate all night, like F1 teams do where they bring the reserve drivers in for 'driver in the loop' simulator sessions. [JA note: This is what Sebastian Vettel credited Charles Leclerc for doing on Friday night of the Singapore GP weekend, which found the set up for him to take pole position.]

"There is much more focus on mechanical set-up optimisation and in particular brake stability to make the driver confident to push on street circuits."
What do you think of the way engineers engage with drivers in Formula E?
"The format gives the drivers and the engineers the opportunity to make a difference in the race: the drivers have a high workload so if they are the sort of driver that has some brain capacity still available when driving they will do well.

"Also the race engineers, control engineers and coders can really help the driver manage their energy well with careful preparation and good software.

"It's a small team (only 20 operational compared to 60 in F1) so you have to work closely and react quickly as a group through the fast-moving race-day."
no images were found