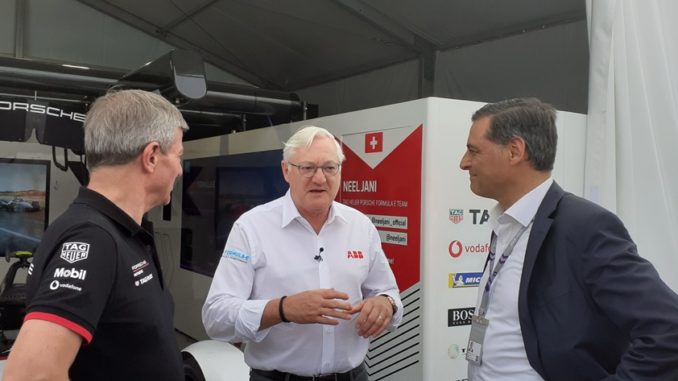 Industrial technological leader ABB and Porsche announced at Santiago a new partnership to jointly promote the e-mobility.
The agreement include different levels and with immediate effect, ABB is becoming an official partner of the TAG Heuer Porsche Formula E Team.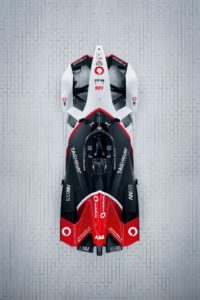 The announcement has been made on the race 3 of season six of the ABB FIA Formula E Championship in Santiago, Chile, in the presence of ABB Chairman and Chief Executive Office Peter Voser, as well as Michael Steiner, Member of the Executive Board, Research and Development of Porsche AG, and Fritz Enzinger, Vice President Porsche Motorsport.
Voser, Steiner and Enzinger officially unveiled the updated Porsche race car design, with a prominent ABB logo on its front nose and rear.
We are delighted that ABB as the world's technology and market leader for electric fast chargers is now one of our top-tier partners and will further work with us on potential opportunities to support our customers' growing demand for e-mobility – said Michael Steiner. That underlines Porsche's Mission E strategy, which includes an investment of 6 billion euro in the field of e-mobility by 2022.

The ABB FIA Formula E Championship is more than a race – it is our test-bed for innovative electromobility technologies, which can contribute to lowering our carbon footprint and contribute to a better world in the future," said Voser. "And who better to partner with than Porsche – an iconic premium brand in the automotive industry. Together, we will drive progress in electromobility.
ABB and Porsche have already entered into an agreement to install fast chargers at Porsche Centers and public facilities across Japan. The first installation is set to go live in mid-2020. In addition, the Swiss ABB Formula E Ambassador Simona De Silvestro is the current test and development driver for the TAG Heuer Porsche Formula E Team.
Source: ABB