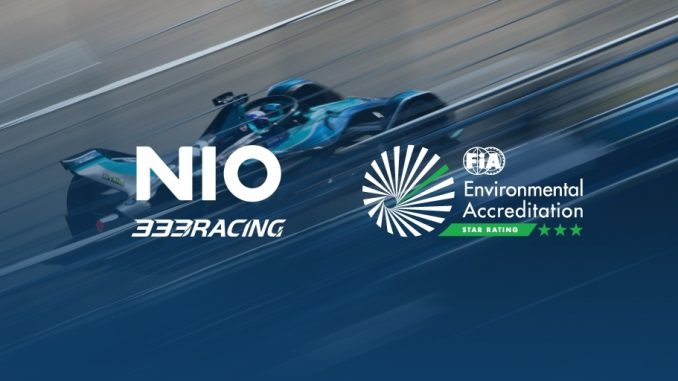 The FIA (Fédération Internationale de l'Automobile) has bestowed the highest award for environmental protection and sustainability to NIO 333 Formula E Team.
By awarding the Three-Star Environmental Accreditation, the FIA recognises the team's environmental performance and excellent environmental awareness.
The FIA Environmental Accreditation Programme is aimed at helping motor sport and mobility stakeholders worldwide to measure and enhance their environmental performance. By introducing clear and consistent environmental management into motor sport and mobility, it provides stakeholders with a three-level framework against which to accredit their activities. To achieve accreditation, applicants must demonstrate the existence of a variety of environmental standards, transparently document them in detail in an environmental management system and define clear environmental protection and sustainability goals.
Jean Todt, President of the FIA, said:
The FIA congratulates NIO 333 [BIE UK Ltd] on receiving the Three-star status within the FIA environmental accreditation – the highest level of certification in our framework. This achievement demonstrates the team's strong commitment to environmental sustainability.
Since work began on attaining the prestigious Environmental Accreditation by the team back in November 2020, the FIA has recognised that Brilliant in Excellence UK Ltd (owners and operational managers of the NIO 333 Formula E Team) has developed a "well-working but straightforward Environmental Management system." In general terms the FIA recognised, through the leadership and environmental science knowledge from Senior Management, that the team demonstrated an impressive commitment to address environmental management and climate change as key performance indicators.
Credit was also bestowed upon the NIO 333 FE Team's digital content department for its climate change impact and action campaign (#TogetherWeCanMakeItBetter) posted across its social media platforms throughout Season 7. The content included statements from and imagery of team members, senior management and team-owners highlighting the urgency of immediate 'climate action' on topics such as the importance of Biodiversity, Waste Management, and the route to a sustainable future.
The NIO 333 FE Team's comprehensive 'carbon tracker', which tracks all team activities to calculate its operational carbon footprint, was also singled out as an example to confirm the FIA's positive impression of the team's overall commitment to Best Practice in Environmentalism and its on-going work to maintain and improve on its commitment to a sustainable future.
Vincent Wang, CEO of the NIO 333 Formula E Team, added:
I feel honoured that the team has obtained the FIA Three-Star Environmental Accreditation. In the past season, in addition to competing in the world's most competitive motorsport championship, the NIO 333 Formula E Team has also actively undertaken social responsibility and strived to be a leader in the cause of sustainable development. Honour and responsibility coexist, and the certification standard is scientific and strict. It puts forward higher requirements for our future work – to abide by various standards, be strict with ourselves, and set an example to society. China has also solemnly made a commitment to aim for carbon neutrality by 2060. We will make unremitting efforts at Brilliant in Excellence, between China and the UK, to help achieve the goal of carbon neutrality.
In addition to the Three Stars accreditation awarded to the NIO 333 FE Team's operational hubs in the UK, the team collaborates with the FIA Formula E World Championship on its joint logistics initiative; a concept executed to reduce its environmental footprint produced due to travel to tests and race events. All CO2 emissions thus generated, plus the fielding of its two NIO 333 FE 001 cars in the Championship, are jointly offset as part of this series-wide initiative. To date, Formula E is the only global sporting series to have been carbon-neutral since its formation in 2014.
Source: NIO 333 FE Team