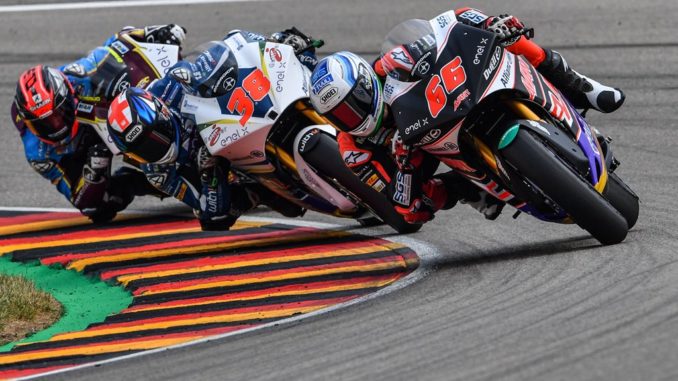 The first race of FIM Enel MotoE World Cup at the Sachsenring saw a hard-fought battle for the win with four riders involved at the front and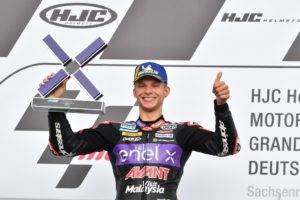 Niki Tuuli as a winner.
Words cannot express how excited I was to finally see the inaugural race of the FIM MotoE World Cup! – said Energica CEO Livia Cevolini. Our Energica Ego Corsa machines, ridden by these incredibly talented riders, stole the show today and I cannot wait for the second race to begin. We are extremely happy with how the weekend unfolded and with the performance of the bikes – and so are the riders, given the great feedback we received in the official press conference. It is now time to return to our headquarters in Modena to start the preparations for the next event. A huge thank you goes to all the parties involved, our shareholders, everyone at Energica who worked day and night to make all this possible – and of course to all the fans, who showed an amazing amount of support!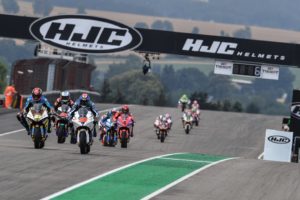 Under mixed conditions due to the overnight rain (the race was called 'wet' by Race Direction), it was former MotoGP star Bradley Smith who led the way as the MotoE field entered turn one. The experienced Briton tried to pull away but was eventually caught and passed by Mike Di Meglio. The two exchanged positions several times and that allowed pole setter Niki Tuuli to bridge the gap to the front, with Garzo, Matteo Ferrari (Team Trentino Gresini), Alex De Angelis (OCTO Pramac MotoE) and Xavier Simeon (Avintia Esponsorama) – who finished in the same order as the race drew to a close – not far behind.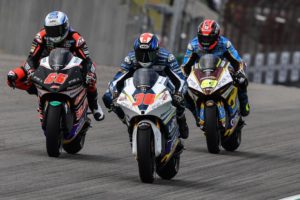 As the laps went by, the first three would take in turns at the front while building a gap with the chasing pack. It was all setting up for a thrilling finale, but unfortunately a collision between front-row starter Eric Granado (Avintia Esponsorama) and Lorenzo Savadori (Team Trentino Gresini) on lap five led to a crash for the latter and ultimately to a premature end to the race due to a Red Flag.
The standings at the end of lap five determined the final classification. With Granado in eighth place, the top-ten was completed by MotoGP icon Sete Gibernau (Join Contract Pons 40) and Nico Terol (OpenBank Angel Nieto Team).
Energica and the FIM Enel MotoE World Cup will return to action in a little over a month at the Red Bull Ring in Austria for round two (9-11 August).
Final classification (PDF)
Source: Energica Motor Company
Pictures courtesy of www.motogp.com