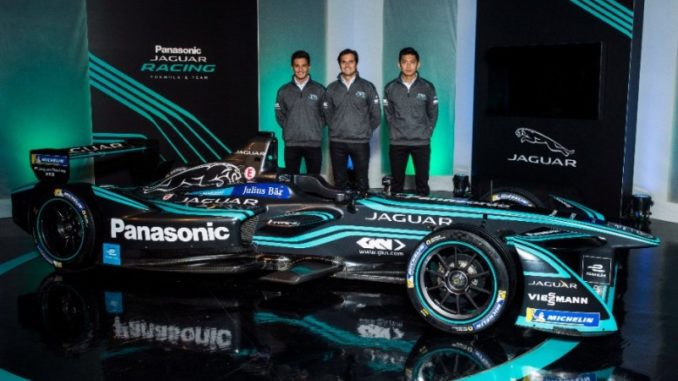 Panasonic Jaguar Racing reveal Nelson Piquet Jr as their new driver for Formula E season four.
Brazilian champion joins Panasonic Jaguar Racing driver Mitch Evans and reserve driver Ho-Pin Tung.
Jaguar's all-electric I-TYPE 2 racecar unveiled in full season four race livery.
GKN and Viessmann join Panasonic Jaguar Racing as Official Team Partners.
Source: Panasonic Jaguar Racing
Whitley, UK. 21st September, 2017. Panasonic Jaguar Racing today announced inaugural FIA Formula E Champion Nelson Piquet Jr as the newest member of the team at an exclusive live show hosted at Jaguar's UK Design headquarters.
Piquet will join Panasonic Jaguar Racing drivers Mitch Evans and Ho-Pin Tung this month for the team's second season in Formula E. The addition of the defending champion to the driver line-up will put the team in a strong position for the start of season four when official testing gets under way in Valencia next month.
Nelson Piquet Jr said:
"It's a great honour to join Panasonic Jaguar Racing. Jaguar has such a strong history in motorsport and it's an exciting time to become part of the team. Their commitment to electric motorsport is inspiring and I'm looking forward to working with the team."
Mitch Evans said:
"After such a great season it's fantastic to be continuing with Panasonic Jaguar Racing in season four. As a team, we are moving in the right direction, and I can't wait for the kick off in Hong Kong."
The announcement was made at Jaguar's live RE:CHARGE event alongside the reveal of the team's new racecar. Official reserve driver and Le Mans LMP2 Winner, Ho-Pin Tung, joined hosts Amanda Stretton and George Lamb to unveil the Jaguar I-TYPE 2. With a dynamic new livery design and a significant number of technical upgrades, the Jaguar I-TYPE 2 begins the next evolutionary cycle in Panasonic Jaguar Racing's #RaceToInnovate.
The reveal of the Jaguar I-TYPE 2 comes nine days after Jaguar Racing announced it will launch the Jaguar I-PACE eTROPHY, the world's first all-electric international race series for production-based cars. The history-making championship will support Formula E, starting in late 2018. These latest developments reinforce Jaguar's long-term commitment to and development of premium battery electric vehicles.
Following the announcement of GKN as Official Partner last week, the team also welcomed Viessmann, a leading manufacturer of heating, cooling and energy systems will help advance the team's technology and performance, as an Official Team Partner for season four.
James Barclay, Team Director of Panasonic Jaguar Racing, said:
"We are hugely excited to have Nelson on board for season four. Mitch was one of the outstanding rookies of the season with some great qualifying and race performances. With our new driver line-up we are aiming to be a strong challenger on the grid, regularly competing for points. We have taken a lot of learnings from season three and the team have been working extremely hard throughout the off-season, focusing on the design and development of the new Jaguar I-TYPE 2."

He added: "We are also delighted to welcome GKN and Viessmann into the Panasonic Jaguar Racing family. To optimise performance we need the best partners, which is why we're excited to have GKN and Viessmann, both leaders in their respective fields, on board for season four."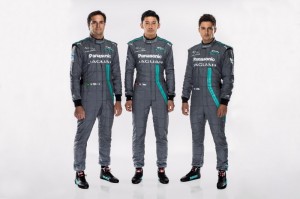 Craig Wilson, Race Director of Panasonic Jaguar Racing, said:
"We knew that there would be much to learn during our first season of racing. The information and data we gathered has been extremely beneficial in the development of the Jaguar I-TYPE 2 where we have been able to improve its weight, balance and efficiency. We have made a few personnel changes, one of those is the appointment of Phil Charles as Racing Technical Manager. We are all looking forward to the upcoming test in Valencia where we can see the first indications of our advancements compared to the other teams, and racing the Jaguar I-TYPE 2 for the first time in Hong Kong in December."
Maximilian Viessmann, Member of the Board at Viessmann, said:
"The world is undergoing a change, leaving behind the oil age and into an era of electrification. Our partnership with Panasonic Jaguar Racing is the perfect platform to bring this shift to life, and showcase our shared commitment to innovation, technology and sustainability. We are excited to be part of this movement, and look forward to the season ahead."
Phil Swash, GKN Driveline Chief Executive Officer, said:
"As a world leader in advanced drivelines, lightweight structures and state-of-the-art electrified systems, GKN is proud to join Panasonic Jaguar Racing in their mission to innovate and inspire on the world stage. We can't wait to get racing in Hong Kong."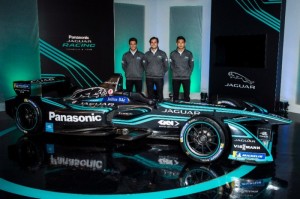 In keeping with Jaguar's ambition to innovate both on and off the track, today's live RE:CHARGE event is the first in a series of shows that will take place across the season – all designed to grow its fanbase and help attract a new generation to the sport.
Panasonic Jaguar Racing will continue the next phase of its pioneering partnership with Gorillaz to inspire young people into STEM (science, technology, engineering and maths) subjects. Earlier this month, Jaguar Land Rover hired the first of the next generation of electronics and software engineers through their coding challenge on the Gorillaz app.
Panasonic Jaguar Racing will return to the streets in the first race of season four of the Formula E street racing series in Hong Kong on December 2 and 3.
no images were found