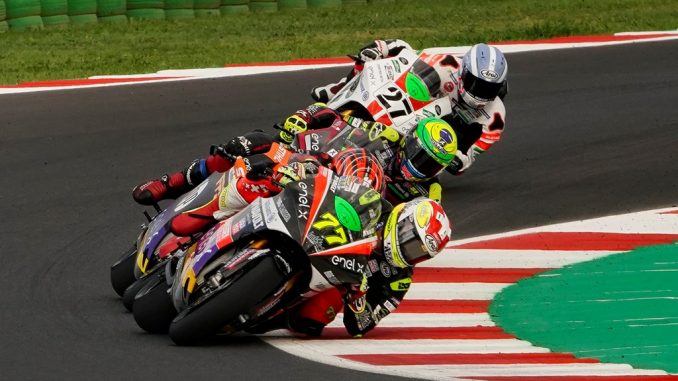 Jordi Torres (Pons Racing 40), won the race one of Moto E at Misano and now is the new leader of the standings ahead of final battle.
The penultimate race of the 2021 FIM Enel MotoE World Cup was both as dramatic as it gets, and it significantly shaped the title battle heading into final showdown with yet another spectacular show.
The encounter was won by Jordi Torres (Pons Racing 40), who made the most of a last-corner crash by Eric Granado (One Energy Racing) who tried a desperate overtaking manoeuvre on the inside of the then-leader Dominique Aegerter (One Energy Racing).
Aegerter had to slow down to avoid the collision with Granado's bike and therefore could not get an ideal acceleration out of the "Misano 2" corner, which allowed Torres to pip him at the line.
The two had a fierce battle at the front, with the Swiss rider able to defend the lead from the Spanish opponent's many overtaking attempts, and at one point the front tyre of Torres's Energica Ego Corsa touched with Aegerter's rear tyre – fortunately without consequences.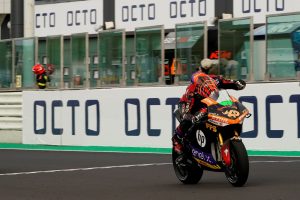 The third place went to Mattia Casadei (Ongetta Sic58 Squadracorse) who continues his podium streak at Misano after the rostrum finishes of 2019 and 2020 (all third-place finishes) after leading for a good portion of today's encounter. Matteo Ferrari (Indonesian E-Racing Gresini MotoE) edged Miquél Pons (LCR E-Team) for fourth position, with other LCR rider Kevin Zannoni sixth ahead Fermín Aldeguer (OpenBank Aspar MotoE) and Lukas Tulovic (Tech 3 E-Racing). The winner of the Austrian race had to start all the way to the back of the grid due to a crash in the qualifying session, which unlike previous events did not follow the E-Pole format.
The riders were on track at the same time for 15 minutes, with three quick lap attempts available to them (pole position went to Torres).
A great news following a dramatic crash came from former MotoE World Cup leader Alessandro Zaccone (OCTO Pramac MotoE), who highsided at turn three on the opening lap and was then ran over by an opponent, who unfortunately had no way to avoid him. Zaccone was transported to Cesena's Bufalini hospital to undergo a total-body scan but always remain conscious and has full mobility in all four limbs. The result of the thorough medical examination will assess the young Italian's current physical condition.
In light of today's result, Torres is the new leader of the MotoE standings with an eight-point advantage over Aegerter, 20 points on Zaccone and 24 on Granado (with 25 still up for grabs for the winner).
The final race of the 2021 FIM Enel MotoE World Cup will get underway today at 15:30 local time (GMT +2).
Source: Energica Motor Company