Monegasque electric vehicle manufacturer Venturi has chosen six-time motorcycling world champion Max Biaggi to represent the brand.
Max Biaggi and Gildo Pastor, the CEO of Venturi, have known each other for more than 15 years. The two men share a passion for motor sports.
Gildo Pastor has big ambitions for his brand, and so asking his old friend to help spread Venturi's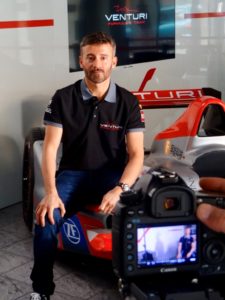 reputation across the globe was a natural step.
I have great affection for Max. He's open, determined and passionate, just as he was when I first met him. I see myself in him. It is an honour for us to have him wear the Venturi colours. Undoubtedly, his presence at our side will help us in our growth process – said Gildo Pastor, President of Venturi

I am very happy to start this new venture with an ambitious and pioneer man such as Gildo is. We both have the desire to explore new projects, reaching new targets and go beyond. I am looking forward to a productive partnership and to contribute on the ongoing Venturi growth process – ha detto Max Biaggi, Ambassador of Venturi.
A prominent Ambassador
Max Biaggi will represent Venturi at major events. He will also play an active role in the expansion of the pioneering electric vehicle brand, which will celebrate its twentieth anniversary in 2020.
Before then, from his offices in Monaco and in addition to working on confidential projects, Gildo Pastor will make another attempt on the world land speed record, still held by Venturi at 549 km/h. He will also present a fully redesigned version of the polar exploration vehicle Antarctica.
Meanwhile, Venturi is continuing its exploits in the Formula E championship. Max Biaggi gave a demonstration of the team's single-seater car during the Rome E-Prix on 13 April.
Max will also be working closely with the eight young people who have just joined Venturi Next Gen, the first academy for young drivers in electric motor sports.
Max Biaggi will be part of the Venturi Formula E team for the Paris E-Prix (France) on the circuit around Les Invalides on Saturday 28 April.