On 24th August, Formula E Mahindra Racing's M5Electro Season 5 car made its UK debut, with the team's development driver, Sam Dejonghe behind the wheel.
Drawing huge crowds, the Gen2 car took to the track at the CarFest South Festival, thrilling spectators of all ages.
The M5Electro has almost double the energy storage capacity and double the range of last season's M4Electro. Season 5 will mark the first season in Formula E's history that cars will be able to complete the full race distance without having to make a mandatory car swap. This is clear proof of the advancements that have been made in battery and motor technology. The Gen2 car will be used for the next three seasons, before the technology takes another step forward.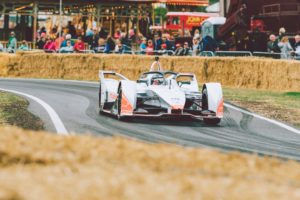 CarFest is the brainchild of BBC Radio 2 DJ Chris Evans. Featuring an incredible combination of cars, food, live music and family entertainment, the inaugural weekend event was staged in August 2012, and eleven further festivals have followed raising a total of £10.5 million for BBC Children in Need so far.
Dilbagh Gill, Mahindra Racing Team Principal, commented;
The whole team at Mahindra Racing have been working hard for many months developing the M5Electro, so it is exciting for us to have the opportunity to showcase what we have be working on (to date!) to the Great British public. CarFest is also a great way to introduce the thrill and excitement of Formula E to new fans, and we hope everyone will enjoy seeing a Gen2 car run in the UK for the very first time.
Sam Dejonghe commented;
It has been a blast driving the M5Electro at CarFest today. As a driver, it's always great fun to do these kinds of events and see the reactions of both Formula E fans, and those who have never seen a Formula E car in person before. We hope that by the end of the weekend that there'll be some more Formula E fans out there!
Mahindra Racing will be at the CarFest South Festival, held at Laverstoke Park Farm, Hampshire, over the weekend and will be taking to the track twice a day, providing fans with plenty of opportunities to witness this stunning car in person.
The race team will then continue to test the M5Electro in a series of private tests, before heading to Valencia on the 16th October for the four-day Teams Test.
Season 5 of the ABB FIA Formula E Championship kicks off in Saudi Arabia on the 15th December.