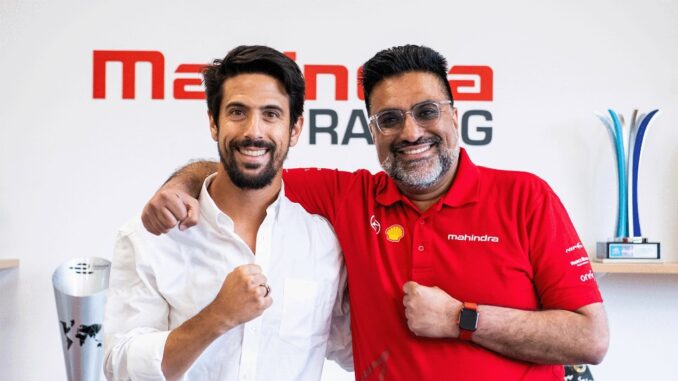 Former Formula E World Champion Lucas Di Grassi (BRA) signed with Mahindra Racing to race in the 9th season of FIA Formula E World Championship.
Lucas di Grassi is the most decorated driver in the championship's history with a career that includes Formula One and three podiums at the 24 Hours of Le Mans – to contest the all-electric series from season nine, with the aim of taking the championship title within the Gen3 era.
Di Grassi, who will join current driver Oliver Rowland (GBR) in the two-car team, replaces Alexander Sims (GBR) who leaves to pursue other opportunities after four seasons in the series and two with the Indian outfit. Together, Di Grassi and Rowland will continue Mahindra Racing's Gen3 testing programme before embarking on a new era for the series at the start of next year and working towards achieving the team's World Championship title ambitions.
From winning the first ever Formula E race on the streets of Beijing back in 2014 to standing on the precipice of his 100th race this weekend in Seoul, Di Grassi has proven a competitive force throughout all eight seasons. In total he has racked up 13 race wins, a record-breaking 38 podiums and three pole positions to total an unrivalled 994 championship points. In 2015-16 he won the championship with ABT Sportsline, which has recently been announced as a Mahindra Racing customer team from the start of the 2023 season.
Aside from his successes on track, Di Grassi is known for his intelligent, informed and passionate approach to tackling the climate crisis. As well as being an outspoken advocate of electric mobility, he is a UN Ambassador and Zero Summit co-founder, and uses his respected standing to drive forward sustainability and technology.
Since its inception eight years ago, Formula E has completed 98 races on the streets of some of the most iconic cities in the world including New York City, Monaco, London, Berlin, Paris, Beijing and Buenos Aires. As one of the founding teams of the world's first all-electric street racing series, Mahindra Racing – the only net carbon zero since inception motorsport team in the world – has competed in every round.
In 2023, the series will visit both Hyderabad in India and São Paulo in Brazil for the first time making it an exciting season for Mahindra Racing and Di Grassi, as both will take the most sustainable racing series in the world to their respective home countries.
The full 2023 FIA Formula E World Championship calendar
Jan 14: Mexico City
Jan 27 – 28: Diriyah (x2)
Feb 11: Hyderabad
Feb 25: TBD
Mar 11: TBD
Mar 25: Sao Paulo
Apr 22: Berlin
May 6: Monaco
May 20 – 21: Seoul (x2)
Jun 3 – 4: Jakarta (x2)
Jun 24: TBD
Jul 15 – 16: Rome (x2)
Jul 29 – 30: London (x2)
Gen3 M9Electro Facts
Fastest: Top speed: 200mph / 320 kph.
Most Powerful: Max Power: 350kw /470bhp (up from Gen 2 250kw / 335bhp).
Lightest: 840kgs (Over 60kg lighter than Gen2)
Powertrain: The first ever Formula car with both front and rear powertrains. (A new front powertrain adds 250kW to the 350kW at the rear, more than doubling the regenerative capability of the current Gen2 car to a total of 600kW).
Fast charge: designed to take a 600kW ultra-high-speed charge for additional energy within race (almost double the energy of the most advanced commercial chargers in the world).
Regenerative braking: The first formula car that will not feature rear hydraulic brakes with the addition of the front powertrain and its regenerative capability. More than 40% of the power used by the car in a race is generated by the car during the race.
Software engineering: a new key battleground for performance upgrades through software updates delivered directly to the car's advanced operating system.
Motor efficiency: electric motor achieves over 95% power efficiency vs c.40% for an internal combustion engine.
Batteries: Amongst the most advanced, sustainable batteries ever made consisting of sustainably-sourced minerals while battery cells will be reused and recycled at end of life.
Bodywork: Linen and recycled carbon fibre will be used for the first time in a formula car in bodywork construction featuring recycled carbon fibre from retired Gen2 cars. All waste carbon fibre will be reused for new applications through adoption of an innovative process from the aviation industry.
Tyres: Natural rubber and recycled fibres will make up 26% of new Gen3 tyres. All tyres will be fully recycled after racing.
Suppliers: All Gen3 suppliers must operate in line with top international standards to reduce environmental impacts of manufacturing (ISO 14004) and are FIA Environmental Accreditation 3-Star rated.
Race to road: Road relevant areas of car are focus for development by teams and manufacturers.
Source: Mahindra Racing