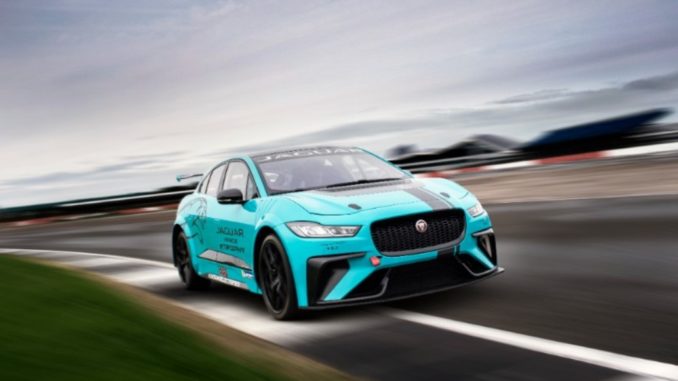 Jaguar Racing has unveiled the full race calendar for the inaugural Jaguar I-PACE eTROPHY Championship that beginning on 15 December 2018 in Ad Diriyah, Saudi Arabia.
Up to 20 identical Jaguar I-PACE eTROPHY racecars will line up on the grid and will take place at ten ABB FIA Formula E Championship rounds from the 2018-19 season with first official introduction test set to take place between 24 and 27 September at Silverstone, UK.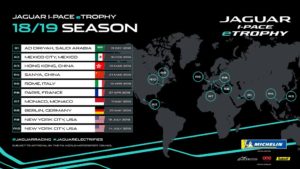 The Jaguar I-PACE eTROPHY race will take place before the main ABB FIA Formula E race on the same city circuits, throughout the 2018-19 season and beyond. The series, a world first, offers teams the chance to showcase driving talent and electric performance in some of the world's most exciting cities.
Marion Barnaby, Championship Manager, Jaguar I-PACE eTROPHY, said:
Seeing Jaguar I-PACE eTROPHY racecars line up on the grid in December will be a proud and historic moment for Jaguar, and spectators can expect plenty of action from the races. As we travel to some of the world's most exciting cities we'll be bringing a new kind of electric street racing to the public and inspiring the next generation of electric vehicle owners.
Later this month, teams will travel to the iconic Silverstone circuit to take delivery of their Jaguar I-PACE eTROPHY racecars and take part in the first of the official pre-season tests.
The full race calendar is as follows, subject to approval by the FIA World Motor Sport Council and track homologation:
Round City Country Date
1 Ad Diriyah Saudi Arabia 15 December 2018
2 Mexico City Mexico 16 February 2019
3 Hong Kong Hong Kong 10 March 2019
4 Sanya China 23 March 2019
5 Rome Italy 13 April 2019
6 Paris France 27 April 2019
7 Monaco Monaco 11 May 2019
8 Berlin Germany 25 May 2019
9 New York City USA 13 July 2019
10 New York City USA 14 July 2019

The Jaguar I-PACE eTROPHY race will be 25 minutes plus one lap. This will follow practice and qualifying sessions in the build up to each race. Jaguar plan for each race to feature a VIP entrant, with famous faces from the world of motorsport and beyond set to take part. Jaguar recently announced that the prize fund for the series is in excess of £500,000 per season.
Sabelt have also been confirmed as technical partner providing seats, seatbelts, steering wheels and head protection nets.
Massimiliano Marsiaj, Sabelt Deputy Chairman & Business Development said:
We are really proud to work with Jaguar. I think we have laid the foundation for a new and lasting collaboration. Thanks to the work of our two technical departments, we have already developed together a new racing seat. Electric cars are the future and we always want to progress with the times.