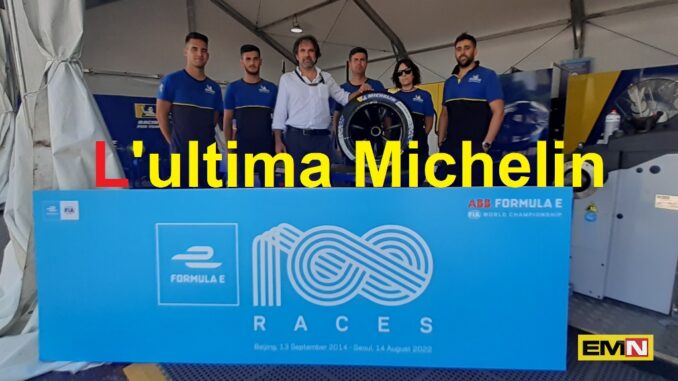 Formula E ha iniziato a scrivere la storia del weekend già da venerdì, con la consegna dell'ultimo pneumatico Michelin al team Andretti.
Sentirete nelle interviste che si parla molto di pioggia e di brutto tempo… e considerando quello che è successo qui qualche giorno fa la cosa preoccupa e non poco…
Comunque sia… come ha detto il grande Freddie Mercury ed i suoi Queen, "The show must go on", e tutti senza eccezione fanno il proprio lavoro per riuscire nell'impresa, anche se con qualche occhiata di più verso il cielo, come per controllare dove sono le nuvole che da qualche giorno gironzolano minatorie nei paraggi…
Ecco i servizi del venerdì del Seoul E-Prix.
Alberto Longo, scaramanzia, ricordi del passato e futuro
Il Co-Fondatore della Formula E Alberto Longo è scaramantico, ricordando che siamo ancora alla gara numero 98… e non fa mistero ad essere preoccupato per le "bizze" della meteo coreana. Nell'intervista parla anche dell'inizio e del futuro della Formula E…
Video in lingua spagnola…
Intervista di Marcelo Padin da Seoul.
L'ultimo pneumatico Michelin
Con l'ultimo pneumatico Michelin montato a Seoul e consegnato nelle mani di Fred, un meccanico del Team Andretti, si chiude un'era della Formula E. Electric Motor News ha seguito il montaggio dell'ultima gomma e la consegna corrispondente.
Servizio di Marcelo Padin da Seoul.
Dilbagh Gill and 100 races of Mahindra
One of the team founders of the Formula E is Mahindra Racing and Dilbagh Gill is the team principal since the first race in Beijing 2014. In the interview he speaks about this years, about memories, the next future with the Gen3 and the relationship between Mahindra and sustainability with the certification of the "Greenest Team" in Motorsport.
In italiano – Dilbagh Gill e le 100 gare di Mahindra
Uno dei team fondatori della Formula E è Mahindra Racing e Dilbagh Gill è il Team Principal sin dalla prima gara di Pechino 2014. Nell'intervista parla di questi anni, dei ricordi, del prossimo futuro con la Gen3 e del rapporto tra Mahindra e la sostenibilità con la certificazione di "Greenest Team" nel Motorsport.
Intervista in lingua inglese.
Intervista di Marcelo Padin da Seoul.
Il fattore pioggia sarà il più importante secondo Vergne
Jean Eric Vergne parla del circuito, di come vive queste ultime due corse e di quello che potrebbe essere l'aspetto più importanti delle due corse di Seoul…
Intervista di Marcelo Padin da Seoul.
Da Costa si diverte, ma parla anche molto sul serio
Secondo il pilota portoghese, il fattore clima sarà il più importante. Nell'intervista ha anche parlato del circuito e dei problemi che hanno trovato a Londra.
Intervista di Marcelo Padin da Seoul.
Come vive Mortara questa lotta per il campionato?
Edoardo Mortara racconta come vive queste due gare finali, analizza l'andamento dell'anno e parla del circuito e ovviamente… del meteo.
Intervista di Marcelo Padin da Seoul.
Lucas di Grassi, pilota sinonimo di Formula E
Lucas di Grassi ha motivi di essere orgoglioso quando la Formula E taglierà il traguardo delle 100 corse…nell'intervista illustra i suoi interessi, il suo pensiero, racconta parte della storia dell'inizio della Formula E, quella prima gara vinta a Pechino… e fa onore anche a Electric Motor News…
Intervista di Marcelo Padin da Seoul.
I pensieri di Mitch Evans prima della gara
Il pilota neozelandese del team Jaguar TCS Racing è uno dei contendenti al titolo. Nell'intervista parla ovviamente del circuito ma anche dei suoi pensieri prima delle due ultime battaglie finali del Campionato Mondiale di Formula E 221-2022.
Intervista di Marcelo Padin da Seoul.
Antonio Giovinazzi ottimista con voglia di chiudere bene
Rinvigorito dopo i buoni parziali di Londra e il terzo posto in qualifica di gara 2, Antonio Giovinazzi attende con ottimismo le due ultime gare del Seoul E-Prix, pensando a chiudere nel migliore dei modi questa stagione sofferta.
Intervista di Marcelo Padin da Seoul.
Sentirà la pressione Stoffel Vandoorne?
E' innegabilmente il favorito per vincere questo campionato, forte del suo cospicuo vantaggio, ma Stoffel Vandoorne assicura che la pressione è la stessa in tutte le gare… Ecco l'intervista di pre gara al pilota belga della Mercedes Benz EQ.
Intervista di Marcelo Padin da Seoul.
Probabile ultime gare in Formula E per André Lotterer
Il pilota tedesco probabilmente lascerà la Formula E alla fine di questa stagione, tentato da Porsche per un nuovo programma nel WEC. Nell'intervista parla del circuito e dei suoi pensieri per queste due gare di chiusura…
Intervista di Marcelo Padin da Seoul.
Ecco le anteprime fotografiche dei video…