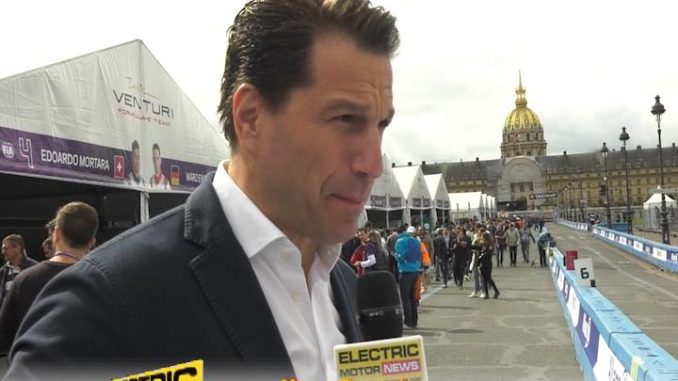 Ecco le interviste di Electric Motor News del sabato mattina della Formula E a Parigi, poche ore prima dell'inizio del Qatar Airways Paris ePrix.
Alcune considerazioni sulla rete elettrica
Dal punto di vista tecnico, Simone Rambaldi spiega i motivi per cui l'attuale rete elettrica italiana supporta la ricarica delle auto elettriche e si spiegano i motivi in modo di spazzare ogni dubbio al riguardo.
Riprese di Daniele Drago.
L'auto solare inglese DUEM
Tobias McBride, Head of the Business Team, ha parlato degli aggiornamenti necessari per rendere conforme l'auto solare DUEM dal regolamento del 2015 al regolamento 2017 del World Solar Challenge.
Intervista di Simone Rambaldi, riprese Daniele Drago.
Marco Parroni di Julius Baer parla della gara di Zurigo
Si avvicina il Zurich ePrix di Formula E ed il Managing Director di Julius Baer, Marco Parroni, illustra i passi che sono stati fatti fino ad oggi per portare i monoposto elettrici in centro città e quello che ancora resta da fare fino alla data della gara.
Intervista di Marcelo Padin, riprese Daniele Drago.