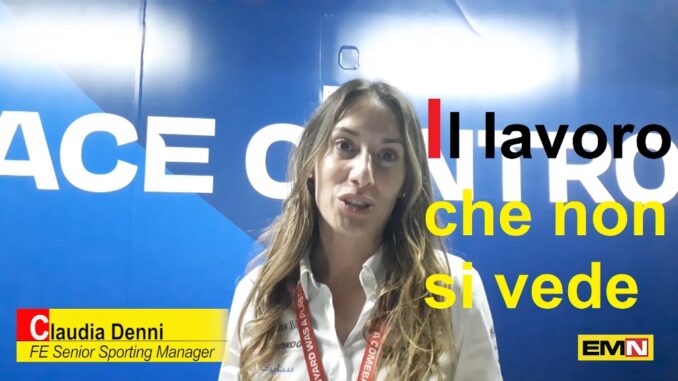 Tra i servizi di gara 2 a Jakarta, le interviste con i piloti, la gara 100 di DS Automobiles e il lavoro nascosto del Senior Sporting Manager di Formula E.
Ecco i servizi video…
Centesima gara di DS Automobiles
Diversi festeggiamenti per le 100 gare in Formula E di DS Automobiles di cui parla il Direttore DS Performance Eugenio Franzetti, illustrando anche nell'intervista il risultato di gara 1 del Jakarta E-Prix e le aspettative per gara 2 di domenica.
Intervista di Marcelo Padin
Il lavoro che non si vede
Organizzare un E-Prix di Formula E è una cosa molto complessa per mille motivi, e c'è tantissimo lavoro dietro le quinte che non si vede e di conseguenza non si apprezza. Claudia Denni, Senior Sporting Manager di Formula E, illustra quale è il suo lavoro… e come sentirete, non è poco e non è nemmeno semplice.
Intervista di Marcelo Padin
Big fight and chaos
Norman Nato declared that in the second race he fronted a lot of fights with different rivals, but in the case of the fight with his team mate Sacha Fenestraz, all has been very correct… who knows what think Tommaso Volpe, the Nissan Formula E Team Principal.
In italiano – Grande battaglia e caos
Norman Nato ha dichiarato che nella seconda gara ha affrontato molti scontri con diversi rivali, ma nel caso della lotta con il suo compagno di squadra Sacha Fenestraz tutto è stato molto corretto… chissà cosa ne pensa Tommaso Volpe, il Team Principal di Nissan Formula E.
Video in lingua inglese.
Intervista di Marcelo Padin
Sapevamo di migliorare, ha detto Fenestraz
Il pilota argentino Sacha Fenestraz è giunto al traguardo in quarta posizione, ma ha detto che in seno al team sapevamo che si poteva migliorare dalla gara di sabato a quella di domenica… e così è stato.
Intervista di Marcelo Padin
Unusual weekend for Jaguar
Mitch Evans said that it's has been an unusual weekend for the team, because they has been strong as a pace, they have a good car but got few points in Jakarta and it's very strange.
In italian – Fine settimana insolito per Jaguar
Mitch Evans ha detto che è stato un fine settimana insolito per la squadra, perché sono stati forti come ritmo, hanno una buona macchina ma hanno ottenuto pochi punti a Jakarta ed è molto strano.
Video in lingua inglese.
Intervista di Marcelo Padin
Good points for the championship
Jake Dennis said that in the weekend they got a very good points for the championship and add that his car demonstrated a very good pace that allowed him to do a solid race.
In italiano – Buoni punti per il campionato
Jake Dennis ha detto che nel fine settimana hanno ottenuto ottimi punti per il campionato e ha aggiunto che la sua macchina ha dimostrato un ottimo ritmo che gli ha permesso di fare una gara solida.
Video in lingua inglese.
Intervista di Marcelo Padin
Maximilian Günther over the moon
The German driver Maximilian Günther take the Maserati again in the top of the world, the first victory in a single seater world championship since the era of Juan Manuel Fangio. "I'm proud to put my name in the history together with them", said Max. In the press conference he said: "I'm over the moon".
In italiano – Maximilian Günther al settimo cielo
Il pilota tedesco Maximilian Günther riporta la Maserati sul tetto del mondo, prima vittoria in un mondiale monoposto dai tempi di Juan Manuel Fangio. "Sono orgoglioso di mettere il mio nome nella storia insieme a loro", ha detto Max. In conferenza stampa aveva dichiarato: "Sono al settimo cielo".
Video in lingua inglese.
Intervista di Marcelo Padin
Di seguito le anteprime fotografiche dei video…