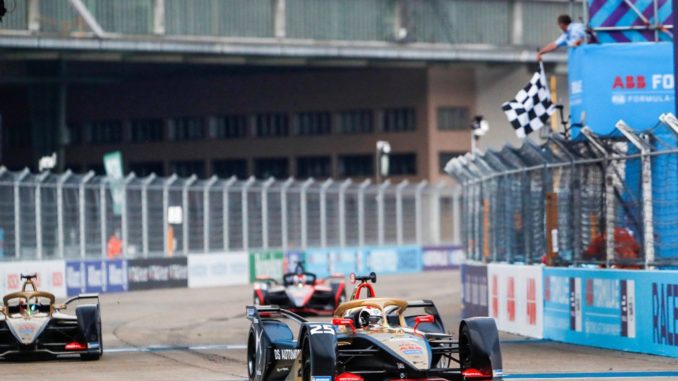 Great day for DS Techeetah team, that complete one-two finish at Tempelhof Airport to successfully defend teams' title, with victory for Vergne and championship for Da Costa.
Jean-Eric Vergne (FRA) returns to winning ways starting from the Super Pole and Antonio Felix da Costa crosses the line in second place to secure maiden ABB FIA Formula E Championship crown.
DS Techeetah duo complete one-two finish in damp conditions to successfully defend teams' title with two rounds to spare.
Jean Eric Vergne, DS Techeetah
As a team we couldn't dream of a better day. We won the teams' championship, Antonio won the drivers' title and I jumped to second in the standings. With two more races to go, I'll keep my head down and race for the runner-up spot. It's a fantastic day and I'm extremely proud to be a part of this team. I know the feeling that hits you on the last lap just before crossing the chequered flag and you're about to win your first championship. It's probably the best moment in the life of a racing driver and Antonio should enjoy every second of it.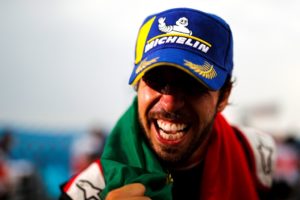 Antonio Felix Da Costa, DS Techeetah
I'm speechless. Sometimes I've been so close to giving up during the tough times, and thanks to the people around me I never did. I'm very grateful to these guys who believed in me and my capabilities, even when I was finishing nowhere near the podium. Massive thanks to JEV, I know this is hard for him, but he pushed me all the way and helped me out a lot and it's mainly thanks to him I settled so quickly in the team. Today we had a plan and we executed it perfectly. JEV and myself helped each other out, but it was very intense at the end since both Seb and Oli were always there. Everyone was very fair today and raced as the champions they are!
Sébastien Buemi, Nissan e.dams
Oliver Rowland (GBR), Nissan e.Dams and Sébastien Buemi (CHE), Nissan e.Dams

I tried to save as much energy as I could, and I felt the call to overtake Oli was a bit late to be honest. By the time I managed to do so, it was the end of the race. I'm a bit disappointed because I feel like I could've had the opportunity to finish second, if I had used the energy properly. I'm sad for Oli as he deserved better today. We scored some good points for the team and congratulations to Antonio, he has done an amazing job and I'm happy for him. But there's still work to do. It's my second podium here in Berlin and I'm looking forward to the final double-header.
Below you can see and/or download the final classification race, the drivers championship standings and teams championship standings after nine races. (PDF)
58 – Final Classification RACE 2
59 – Final Drivers Championship Points
60 – Final Teams Championship Points
Source: Formula E
NextGEN Gallery
Modifica
Cancella