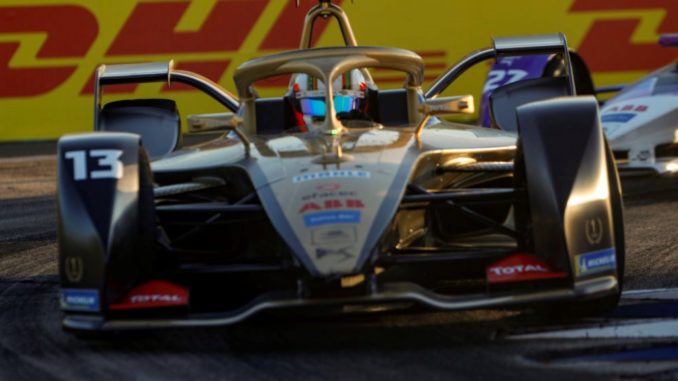 Sfortunata la penultima gara della stagione di Formula E per il team DS Techeetah e per i suoi piloti Antonio Felix Da Costa e Jean-Éric Vergne.
Jean-Éric Vergne può però ancora offrire una doppietta al brand premium di Groupe PSA questo giovedì durante la gara finale del campionato.
Questo è il fascino dell'incertezza nello sport. Dopo un dominio mai visto prima in questa disciplina, il team DS Techeetah ha conosciuto una involuzione. Dopo aver preso dei rischi nella pianificazione della strategia, le due monoposto con propulsore elettrico progettato da DS Automobiles sono passate con qualche secondo di ritardo sulla linea del traguardo in occasione delle qualifiche. I due piloti non hanno dunque registrato il tempo e sono dovuti partire in griglia dalle retrofile.
Al termine dei 45 minuti della gara, Jean-Éric Vergne ha dovuto accontentarsi della 18a posizione, dopo che il suo compagno di squadra Antonio Félix Da Costa, campione della stagione 6 da domenica è stato costretto al ritiro durante l'ultimo giro.
Siamo campioni, ma non siamo né invincibili, né immortali – sdrammatizza Xavier Mestelan Pinon, Direttore di DS Performance. Questa performance negativa ricorda a tutti noi che non bisogna mai abbassare la guardia in un campionato di questo livello. Se vogliamo vedere il lato positivo di questa situazione, è che per noi è una preziosa avvertenza sul come dovremo affrontare la prossima stagione, con il coltello fra i denti! Ma intanto cercheremo di rimettere le cose a posto domani sera all'ultimo appuntamento della stagione. L'obiettivo sarà di permettere a JEV di raggiungere il secondo posto nella classifica piloti del campionato.
Il Team Principal di DS Techeetah, Mark Preston, sa bene che la riuscita in questo nuovo obiettivo è appesa a un filo:
Non è stata chiaramente la nostra giornata, ma non è così semplice rimanere costantemente sul gradino più alto del podio – confida. È così che funziona la Formula E. Abbiamo fatto un azzardo strategico durante le qualifiche che non ha pagato. Ma non dobbiamo rimpiangere nulla: era giusto provarci. È anche in questo modo che costruiamo i nostri successi: cercando di migliorare anche nei più piccoli dettagli che possono fare la differenza. A volte funziona, a volte no. Ma Jean-Éric ha ancora tutte le possibilità per cercare di piazzarsi come vice-campione domani.
Arrivato 18° questo mercoledì, il Francese, due volte campione di Formula E, avrà sete di vendetta per questo finale di stagione.
Jean-Eric Vergne (FRA), DS Techeetah

La gara era cominciata bene – racconta JEV. Ero riuscito a gestire bene la mia energia nei primi giri e cominciavo a rimontare verso la testa della corsa. Purtroppo ho avuto una penalità, un Drive Through, per aver raffreddato le batterie in griglia di partenza. Da lì la gara era finita per me, ma abbiamo continuato per acquisire dati. Ora dobbiamo azzerare tutto e concentrarci sulla giornata di domani.
Euforico dopo il titolo conquistato domenica, Antonio Félix Da Costa ha fatto buon viso a cattivo gioco.
Antonio Félix da Costa (PRT), DS Techeetah talks to the press

In certe giornate le cose non girano nel verso giusto – ha dichiarato. E oggi era una di quelle giornate, Ma, per essere onesto, la vedo comunque positivamente. Ho talmente tanta gioia per quello che è successo negli ultimi giorni… Occorre anche ammettere che non possiamo essere ogni giorno al top. Mi sono comunque divertito in gara, partendo dal fondo della griglia. Ero arrivato fino all'11a posizione, ed ero convinto di riuscire ad arrivare nella top 10 quando la mia monoposto si è fermata all'ultimo giro. Non sappiamo ancora cosa sia successo, ma analizzeremo tutto attentamente con i nostri ingegneri.
Giovedì alle 19.00, l'undicesima e ultima gara del campionato ABB FIA Formula E rappresenterà il gran finale di questa stagione particolarmente intensa. Già campione Piloti e Costruttori, il team DS Techeetah cercherà l'ultima vittoria della stagione per permettere a Jean-Éric Vergne di conquistare la seconda posizione in classifica.
Fonte: DS Italia
NextGEN Gallery
Modifica
Cancella