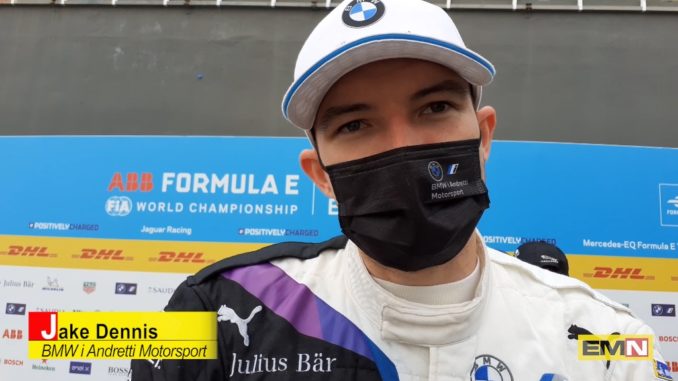 Bruno Correia, insieme a Jake Dennis, Andrè Lotterer, Alex Lynn, Antonio Felix Da Costa e Jean Eric Vergne nelle interviste dalla Formula E a Valencia.
Protagonista la Safety Car
Bruno Correia, il pilota portoghese della Safety Car, racconta la giornata della Gara 1 del Valencia E-Prix di Formula E, dove oltre a guidare la partenza sotto la pioggia con tutto il gruppo dietro di lui, ha dovuto uscire altre quattro volte in diversi momenti della gara. Ecco cosa ci ha detto.
Intervista di Marcelo Padin in lingua spagnola…
Super Pole and victory, but never is easy
The winner Jake Dennis confirms that despite scoring the Super Pole and winning the race, it's never easy, indicating he was on the same strategy as Alex Lynn's Mahindra and expected a fight in the final laps.
In italiano – Vittoria e Super Pole, ma non è mai facile
Il vincitore Jake Dennis conferma che nonostante aver segnato la Super Pole e aver vinto la gara, non è mai facile, indicando che era sulla stessa strategia della Mahindra di Alex Lynn e che si attendeva una lotta nei giri finali.
Intervista di Marcelo Padin
Oggi abbiamo fatto un buon lavoro, ha detto Lotterer
Andrè Lotterer ritorna al podio, per la prima volta con Porsche, dichiarando di aver fatto un buon lavoro, anche quando ha dovuto battagliare con il suo ex compagno di squadra Jean Eric Vergne. Ora il suo pensiero va alla prossima gara di Montecarlo.
Intervista di Marcelo Padin
An exciting race
Alexy Lynn said that has been an exciting race, keeping the perfect strategy in contact with the team in the second place very near of the first; but the contact with Norman Nato changed his plans.
In italiano – Una gara emozionante
Alexy Lynn ha detto che è stata una gara entusiasmante, mantenendo la strategia perfetta in contatto con il team al secondo posto molto vicino alla vetta; ma il contatto con Norman Nato ha cambiato i suoi piani.
Intervista di Marcelo Padin
L'Attack Mode ha fatto sprofondare Da Costa
Da Costa ha provato ad attivare l'Attack Mode per ben cinque volte, ma non è riuscito a farlo ha anche ricevuto una penalità come da regolamento. Un weekend da dimenticare per il pilota portoghese.
Intervista di Marcelo Padin
Settimo posto stretto per Vergne
Jean Eric Vergne non si spiega il motivo del calo di rendimento, dopo aver lottato all'ombra del podio ma riuscendo a portare a casa solo un settimo posto, che sta stretto al pilota francese nel giorno del suo compleanno.
Intervista di Marcelo Padin
La conferenza stampa di Gara 2
Jake Dennis, André Lotterer ed Alex Lynn sono saliti sul podio di Gara 2 del Valencia E-Prix di Formula E ed ecco la loro conferenza stampa del dopo gara.
Servizio di Marcelo Padin
Di seguito le immagini anteprima dei video.