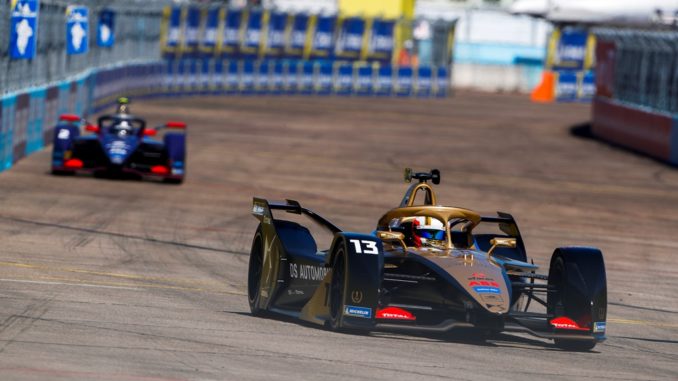 Before two final Formula E Races in Berlin Tempelhof, here you can read the quotes of the protagonists of the races and also of the season.
Mark Preston (Team Principal at DS Techeetah)
We've had an incredible time here in Berlin. We were worried someone was going to do what we've done, but it was pretty amazing and we can't wait to see what happens next. Our main goal was delivered in the second double-header, with a one-two for the team. We tried to do it in the first two rounds but it didn't work out so we tried again and succeeded. We want to get JEV second in the championship and that's the focus for the next few races and then definitely get some more points for the team. I'm quite impressed with how much Antonio has managed to dominate the end of the season. Being at one track has its pros and cons, but the surface seems to fit his driving style perfectly and he's been very successful in the past few races.
Tommaso Volpe (Nissan e.dams Global Motorsport Director)
This is my first race. We are pleased with the team performance so far. At the beginning of the season we were the only team having to change the powertrain, this has led us to struggle at the beginning but the position where we are now is amazing and I think it really shows how talented our drivers are and the determination of the team to achieve great results. We want to keep fighting for this position for the next two races. On Sunday we witnessed a great team performance. We managed the race in a way that we were looking for the best time to attack DS TECHEETAH, probably it was a bit awkward when we decided to make our move, but overall the performance was really good.
Roger Griffiths (Team Principal at BMW i Andretti Motorsport)
Overall if we look at the four races, it has been quite disappointing for us apart from Max's win on Saturday. As Mark has demonstrated, what you need to win the ABB FIA Formula E Championship is consistency in point scoring for both drivers and that's what will be our focus for the next few races to make sure that both Alexander and Maximilian are scoring the maximum number of points that they can, whether that's from wins or placing in the top-five or ten and see where we end up on Thursday night. I think the third layout will be the most interesting, we are going to see more changes to the cars for the new layout. It's a bit tighter and I think the race might get a bit more frantic in that area while the traditional Berlin circuit is quite open which has led some of the brave moves that we've seen on occasion. I'd put a bit more focus on the energy management and we'll need to wait and see what the weather does in terms of batteries and their temperature but I think it'll be potentially more challenging.
Antonio Felix da Costa (DS Techeetah)
Antonio Félix da Costa (PRT), DS Techeetah

The last 48 hours have been full of joy and relief but overall hungry for more races. It's been such an incredible experience to come back to track with with no pressure at all, just pure joy of being in a race car and driving as fast as I possibily can. I also feel very grateful for what I am living and the people around me. Watching JEV racing last year in a similar position to mine, I learn to always be aggressive and always be offensive – this time around I had the confidence in the car to be offensive and I told myself I was never going to change that. There was pressure, but I am glad there was because it shows it is an important thing as if there wasn't, it would've meant no one cared about it. I know how lucky I am to call this a job, so I am only trying to enjoy it because I don't know when I am going to live it again, hopefully soon, next year!
Jean-Eric Vergne (DS Techeetah)
Jean-Eric Vergne (FRA), DS Techeetah

This season has been a bit of a nightmare for me due to DNFs, technical issues and in all fairness I am quite lucky to be second in the standings despite it all and it shows there is still something good. I am looking forward to racing in the new track since from what I can remember in the simulator, that is the layout I drive most comfortably in.
Maximilian Guenther (BMW i Andretti Motorsport)
We didn't manage to find the qualifying pace we had expected, apart from Saturday when we qualified in the front row. Formula E is such a competitive championship and everything needs to fit together, in our case we didn't manage to achieve that unity. We're in good shape and the atmosphere in the team is good overall, we need to be able to trust our abilities and put our package together. I never put too much pressure on what to expect ahead of the season, I always try to do the best I can and take it step-by-step whilst improving every day and if the results are good that's even better! Our main focus ahead of the final double-header will be to fight to seal P2 in the championship.
Source: Formula E