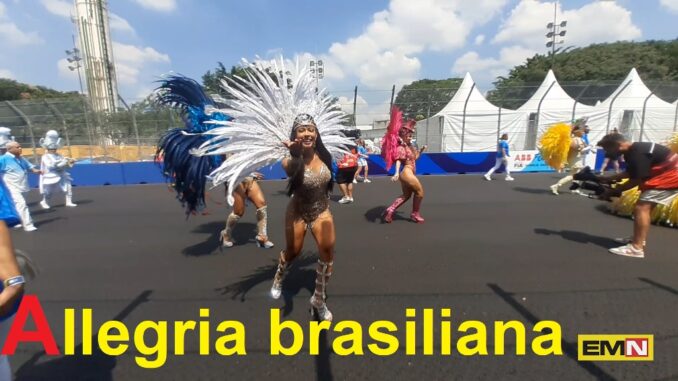 Di seguito vi proponiamo i servizi video registrati il giorno di gara del São Paulo ePrix di Formula E, con i protagonisti, il colore e i momenti di allegria brasiliana.
Alberto Longo, il Brasile, la ricarica e il calendario
Abbiamo parlato con il co-fondatore di Formula E, Alberto Longo, che ha manifestato la sua soddisfazione per essere riusciti a correre in Brasile dopo tanti anni di tentativi. Ma cosa avrà detto riguardo l'inizio della ricarica rapida in gara e del calendario della stagione 10?.
Video in lingua spagnola.
Tutta l'allegria brasiliana
Si dice che il popolo del Brasile è un popolo sempre allegro, ma quando si tratta di fare qualcosa che ha a che fare con il carnevale… quell'allegria aumenta all'ennesima potenza… ecco la parata con il carro, i piloti e l'esibizione di una Scola do Samba.
Mitch Evans won the first São Paulo ePrix
Mitch Evans has been the winner of the first Formula E São Paulo ePrix and after the race he congrats with the team that placed the three cars with Jaguar Powertrain in the first three positions. He also speak about his race and the strategy… like to play a chess!
In italiano – Mitch Evans ha vinto il primo São Paulo ePrix
Mitch Evans è stato il vincitore del primo ePrix di Formula E a São Paulo e dopo la gara si congratula con il team che ha piazzato le tre vetture dotate del powertrain Jaguar nelle prime tre posizioni. Parla anche della sua gara e della strategia… come giocare a scacchi!
Video in lingua inglese.
Nick Cassidy happy with the approach after up and down
Nick Cassidy finished second and he said in the press conference that after so much up and down in the last races, now he and his team had a very good approach at the race with a very big results… of course with a little dissappointment for not win the race…
In italiano – Nick Cassidy soddisfatto dell'approccio dopo alti e bassi
Nick Cassidy è arrivato secondo e ha detto in conferenza stampa che dopo tanti alti e bassi nelle ultime gare, ora lui e il suo team hanno avuto un ottimo approccio alla gara con grandi risultati… ovviamente con un po' di delusione per non aver vinto…
Video in lingua inglese.
Sam Bird back to the podium
After very difficult start of the season 9, Sam Bird reached again the podium with his third position. In the press conference after the race, he congratulates Mitch and Nick for their race and he spoke about his race, saying that he is super happy with the podium especially after what happend in India.
In italiano – Sam Bird torna sul podio
Dopo un inizio molto difficile della stagione 9, Sam Bird è salito nuovamente sul podio con la sua terza posizione. Nella conferenza stampa del dopo gara, si è congratulato con Mitch e Nick per la loro corsa e ha parlato della sua gara, dicendo che è super contento del podio soprattutto dopo quello che è successo in India.
Strategia pura
Qui tutti sapevamo benissimo quello che dovevamo fare, questione di strategia pura… ha detto Antonio Felix Da Costa, che ha ammesso con la sincerità che lo caratterizza il suo errore quando è arrivato lungo e ha parlato anche di qualche nuova caratteristica della Gen3…
Buemi ferito alla mano destra
Sébastien Buemi è comparso dopo la gara con una vistosa fasciatura nella sua mano destra. Nell'intervista racconta cosa è successo…