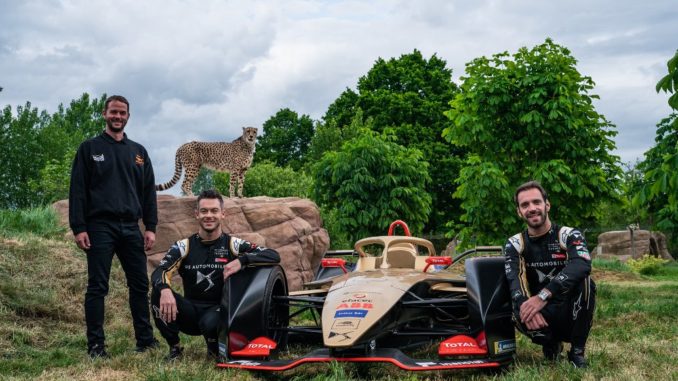 DS Techeetah drivers André Lotterer and Jean-Éric Vergne have experienced the amazing chance to meet this week cheetah brothers Keene and Bajrami.
After that "meeting", their DS E-Tense FE19 race cars are named.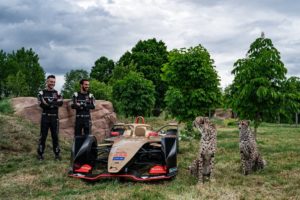 They also had the unique opportunity to hand-feed cheetah cub, Willow, all at The Big Cat Sanctuary (BCS), DS Techeetah's charity partner.
The DS Techeetah drivers gained the chance to be the first external people in the world to hand-feed Willow in a charity auction hosted by DS Techeetah that raised thousands of pounds for BCS's Welfare, Breeding, Education and Conservation work.
Willow the BCS cheetah famous from the BBC documentary, Big Cats About the House and adopted mascot of the DS Techeetah team, was hand-reared by The BCS Director of Cats and Conservation, Giles Clark and the BCS Keeper team, after an injury as a cub left her vulnerable.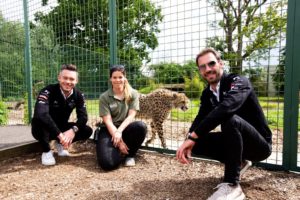 Less than 7000 cheetahs remain in the wild today where they face huge challenges to survive. Factors such an increase in mass agriculture & farming in tandem with global climate change mean less prey and habitat and with increased poaching, illegal wildlife trade and human-animal conflict, the cheetah is at a high risk of extinction.
DS Techeetah and The Big Cat Sanctuary have partnered up to help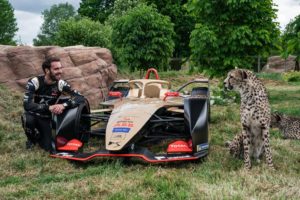 raise awareness and funds to further improve the welfare, breeding, education and conservation of the endangered Big Cats around the globe. This partnership is aligned with the team's fight to halt climate change by developing technology for electric cars and by driving innovation through the automotive industry. This will make a large impact in protecting and conserving ecosystems and wildlife with more electric vehicles on the road.
Whilst we wish all big cats to remain in the wild and it is our ambition to release cats back into the wild too, for some it is not possible, and they become our ambassador cats at The Big Cat Sanctuary. Here they fill a crucial role in breeding and in creating awareness for the plight of the species.

Raising funds and awareness are two of the most important things for a charity and this is why we have partnered up with DS Techeetah and why we have created a unique membership with the team. Through the global platform of the ABB FIA Formula E Championship, in which DS Techeetah is the current championship leader, we hope to entice an audience from all over the world and hope that the whole Formula E family will get on board and help us in our mission to put cheetahs first – said Giles Clark, Director of Cats and Conservation at The Big Cat Sanctuary.

The partnership with The Big Cat Sanctuary is one that is very close to our hearts. As a team we're very passionate about our projects and partners, and we always ensure that we make tangible actions for a better tomorrow with all of our partners.

What we have here is a unique and very real opportunity to actually save the cheetah species together and we really urge everyone who is either involved or is watching Formula E to get on board on the worthiest project in the paddock. We've set up a unique membership tailored to the Formula E community where everyone can get involved to help save the cheetah species – said Keith Smout, DS Techeetah Chief Commercial Officer.
Source: DS Techeetah Formula E Team