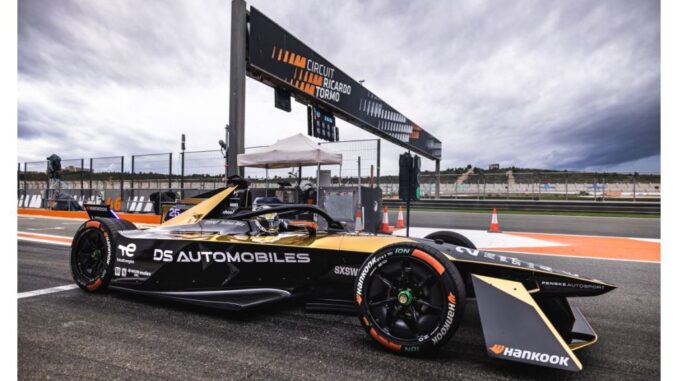 The FIA (Fédération Internationale de l'Automobile) has awarded DS Penske a three-star label in its environmental accreditation programme.
This recognition of excellence rewards DS Penske for good practice in terms of environmental impact and also DS Performance, a key player in energy transition, is also involved in this accreditation process.
Environmental impact is a major concern for the Fédération Internationale de l'Automobile as well as all the stakeholders in the ABB FIA Formula E World Championship.
DS Penske is also very engaged in this area, and the team has just been awarded the highest level of environmental accreditation from the FIA (three-star/best practice) for Season 9 of the 100% electric series. The FIA's environmental accreditation programme aims to help those at the forefront of motorsport to measure and improve their environmental performance.
The DS Penske team was put forward as a three-star candidate in November 2021 and has now been rewarded for all its sustainability measures. These include environmental performance, reduction of energy consumption, better logistical efficiency, optimised waste management, and the inauguration of a carbon offsetting programme. The whole package now forms part of a long-term environmental commitment.
This initiative from the FIA, Formula E (the first sport to be certified carbon neutral in 2020) and the DS Penske team is in complete synergy with all the steps taken by DS Automobiles: another key mover in the sphere of energy transition.
Since it was created in 2014, the brand has put electrification at the heart of its strategy. To achieve this, it entered Formula E to accelerate the development of its road cars and maximise technology transfer. A true open air laboratory for DS Automobiles, Formula E allows the manufacturer to conceive, test, and develop technologies that eventually find their way onto cars for the road. Thanks to the expertise gained from Formula E, DS Automobiles is able to make cutting-edge technical choices that benefit its customers as well as lowering CO₂ emissions.
The competition arm of DS Automobiles, DS Performance, is also closely involved in the drive towards increased sustainability and has been a candidate for the FIA's three-star accreditation since October 2022.
For the brand, Formula E is more than ever the best possible tool to imagine tomorrow's mobility and play an active part in the fight against global warming.
Eugenio Franzetti, DS Performance director:
The choice of competing in the ABB FIA Formula E World Championship is a strategic one aimed not only at developing new electric technologies for our cars but also for continued research into greater sustainability within our organisation. That's why obtaining this accreditation is a source of big satisfaction for us.
Jay Penske, owner and Team Principal of DS Penske:
I am very proud of our team for achieving FIA Three-Star Environmental Accreditation, it is another major milestone and the result of a team effort with the support of DS Automobiles and Stellantis. We will not stop here, and will continue to strive improvements, while ensuring long-term decisions that positively impact our environment and communities.
Felipe Calderón, President of the FIA Environment and Sustainability Commission:
I am very pleased to see that DS Penske has earned the FIA Three-Star Environmental Accreditation. The commitment shown by DS Penske to achieve greater standards in their sustainability programs and to develop these standards further moving forward is testament to the leading role of the ABB FIA Formula E World Championship in shaping a more responsible and sustainable motorsport.
Source: DS Performance