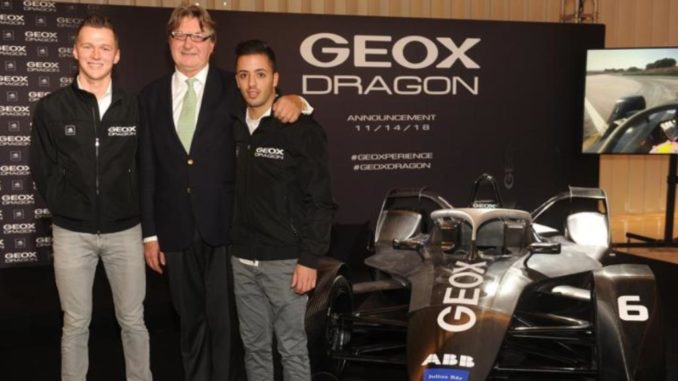 Dragon Racing announced a multi year strategic alliance with the Italian footwear and outerwear company Geox SpA that will become title partner in Season 5 of the ABB FIA Formula E championship.
The team will be re-named "Geox Dragon" to reflect the deep strategic integration of both organizations.
Geox's patented breathing technology creates thermoregulatory benefits that are well known to consumers worldwide. Through the supply of footwear and outerwear, Geox will play a critical role in the performance of the team personnel. Geox breathing technology will keep the team at the optimum operating temperature as they travel to and compete in a wide range of urban climates, across five continents, throughout the ABB FIA Formula E Championship season.
Mario Moretti Polegato, President and Founder of GEOX, stated:
We are very proud and excited about Geox joining Dragon Formula E team as title partner for the seasons to come.

Geox has always been synonymous with the most advanced patent technologies in footwear and apparel, designed to provide superior breathability, performances, and comfort.

The extreme conditions and requirements of Formula E motor racing will, therefore, represent the best testing ground for Geox to experiment new breathing and performance-oriented technologies, to be eventually translated into wellbeing for everyday use products.

Geox will be providing its breathable footwear and apparel to Geox Dragon drivers and team members, allowing them to experience maximum comfort and support during travel, training, and races in very different and challenging conditions, on circuits all around the world.

As sustainability and respect for the environment are cornerstone founding values of Geox, it was only the most natural fit to embrace Formula E, which I believe is the future of motor racing, marrying great competition, the most advanced technologies, and a global sustainable approach.
Jay Penske, Dragon's Founder, Owner, and Team Principal, added:
We are extremely excited to align ourselves with Geox. With over 60 technological patents and a clear focus on sustainability, there are powerful synergies between Geox and Dragon. We have a unique opportunity to improve the performance and comfort of our team while also raising awareness for Geox's ongoing work in sustainable innovation. I look forward to seeing the results of this partnership on and away from the circuit.