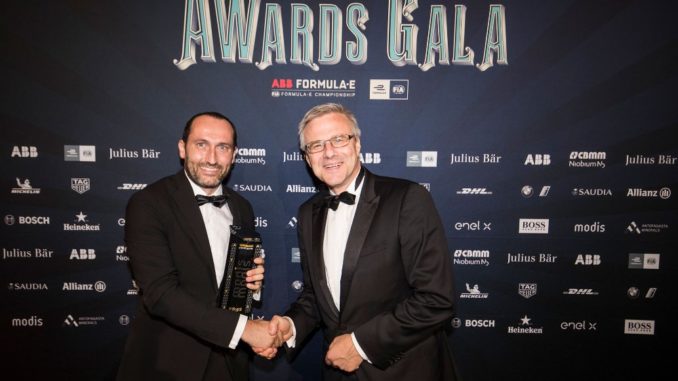 Alberto Blanco from Mahindra won the Modis Engineer of the Year Award at the ABB FIA Formula E Championship's end of season gala awards ceremony in New York.
Any great racing driver will tell you that their achievements are only possible thanks to the army of engineers, data analysts, mechanics and team managers behind the scenes, who keep everything running smoothly.
The Modis Engineer of the Year Award celebrates these unsung heroes, recognising the most outstanding engineer from this year's ABB FIA Formula E Championship. It is an official Formula E award recognising the importance of behind-the scenes excellence in the innovative world of e-racing.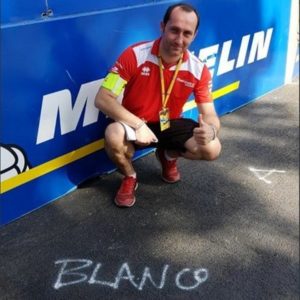 The panel of judges selected Blanco for his outstanding contribution to the sport and his team, with a special focus on innovation. Blanco first joined the Formula E environment as a fan. He worked as a reporter covering the sport before following his passion to become an engineer in electric racing. As a part of the Mahindra Racing team, Blanco serves as a race strategy engineer, where he has developed his own software to help his team use energy in a smarter, more efficient way.
The panel comprised of Formula E Founder & CEO Alejandro Agag, SPARK Racing Technology Commercial and Development Director Pierre-Alain Michot, Discovery Inc Senior Vice President of Content Dave Schafer, Michelin Formula E Program Manager Serge Grisin and Modis North America President Ger Doyle.
I am honoured to have been awarded the Modis Engineer of the Year – said Blanco. It was a very emotional moment for me and I thank Mahindra Racing for the incredible opportunity they have given me. When I first saw Formula E, I knew that I wanted to be a witness of the evolution of this silent revolution. I hope my story is inspiring to anyone else that wants to achieve their dreams, whether that is in racing or any other walk of life.
Talking about the Modis Engineer of the Year Award, Doyle said:
Engineers are at the forefront of innovation in e-mobility. We congratulate Alberto for earning the coveted Engineer of the Year title and want to recognize all of this year's nominees for their impressive achievements and contributions to electic racing.
Each of the six nominees demonstrated passion, led innovation within their teams, and drove performance over the season:
Alberto Blanco, Mahindra Racing, Race Strategy Engineer
Andre Costa, BMW I Andretti, Systems Engineer
Dan Moeller, Geox Dragon, Systems & Performance Engineer
Fabien Chenin, HWA Racelab, Performance Engineer
Jérémy Colançon, Venturi, Massa Race Engineer
Stephen Lane, Envision Virgin Racing, Senior Race Engineer
About Modis
As global leader in professional solutions for IT, engineering and life sciences, Modis is designed to deliver agile end-to-end solutions for its customers, including professional staffing and consulting, project services, managed services, customised solutions, and outsourcing projects. Part of the world's leading HR solutions partner, the Adecco Group, Modis empowers its associates, consultants, clients and candidates to connect smarter in a rapidly changing world of work through technology, innovation and international expertise. Modis is the only global brand of this kind, engaging some 35,000 associates and consultants and serving more than 6,000 customers in 18 countries worldwide. The Modis network of 20 centres of excellence and delivery centres offers customers the opportunity to benefit from best practices in their industries as well as access to the Adecco Group's resources, experience and expert network in 60 territories. Modis offers candidates an unrivalled, diverse portfolio of projects and career development opportunities with the flexibility and security they need to thrive.
Mahindra Racing Team won Social Media Activation award
Mahindra Racing Team demonstrate excellence in the team spanning the engineering and marketing and communications spectrum, winning Social Media Activation award.
When creating the Bollywood four-part video series for social media, Mahindra Racing wanted to create a compelling and unique piece of content that brought together the international world of motorsport with Indian culture, the roots of our team. Mahindra wanted to communicate that Formula E is a community and a family – where can be competitive on the track but also show what is special and fun about the series off the track. The impressive campaign saw 41.7 million video views with 2 million engagement.
With help from actress Gul Panag, who created the now infamous music track Kabja, the first episode 'Jérôme Goes Bollywood' saw Team Principal Dilbagh Gill and drivers Jérôme D'Ambrosio go to Mumbai to feature in a Bollywood film and a dance scene. The Mahindra Racing team caught the bug and recreated the dance scene from the first film in the second episode 'Mahindra Racing Goes Bollywood.' In 'Formula E Goes Bollywood', the movement spreads across the Formula E family – an all-star cast from the paddock give their interpretation of Bollywood dancing. And finally, we invited the fans to get involved and submit videos of them dancing to the, by now, familiar tune of the 'Kabja' song in 'The Fans Go Bollywood.'
Dilbagh Gill, Mahindra Team Principal
I am thrilled that the two awards we won demonstrate excellence across engineering, marketing and communications. I am hugely proud of the whole team and the passion, innovation, creativity and expertise they show on a daily basis and these awards are a proof point of the effort that we put into Formula E. We do not rest on our laurels though and will continue in our endeavours to be world leaders in this industry, both on and off the track.
Source: Modis and Mahindra Racing Team