ROKiT Venturi Racing join forces with ABK Beer for Formula E's 2019/20 season finale, expanding upon its present title Partnership with global conglomerate ROKiT.
ROKiT, Venturi Racing's relationship with ABK marks an exciting new chapter as the beverage company – part of the ROKiT Group of Companies – joins the world's premier all-electric racing series.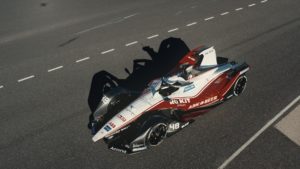 Holding a pronounced history and heritage, ABK Beer's beginnings can be traced back to 1308 at the Aktien Brewery in Bavaria when Henry Twinger donated the facilities to the citizens of Kaufbeuren.
700 years on, the brewery has gained global recognition, with ABK Beer awarded two gold medals in the International Beer Challenge while the brand's 'Hell' (pale/light) product was named as the best beer in the world in 2018.
For the six-race Berlin season finale, ABK Beer's branding will replace the ROKiT logos on the side pods of Felipe Massa and Edoardo Mortara's car, offering strategic exposure in the local market and beyond by racing in the German capital.
Source: Venturi