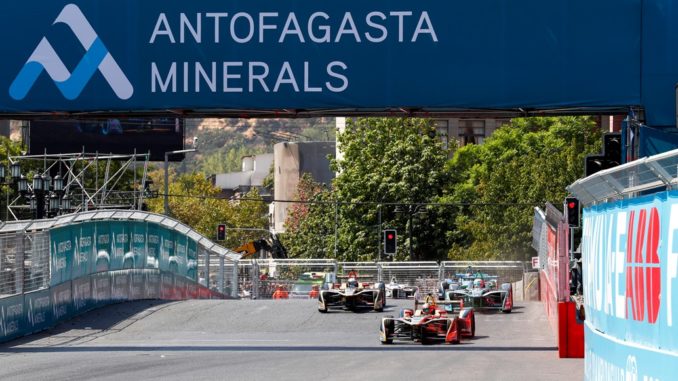 Santiago will be again a part of the ABB FIA Formula E Championship in season five – featuring a new track in the surroundings of Parque O'Higgins.
The second running of the Antofagasta Minerals Santiago E-Prix will be on January 26, expanding affiliation with ABB FIA Formula E Championship as official copper mining partner.
Following on from the success of the electrifying debut on the streets of Santiago in February earlier this year, Formula E will be bringing fully electric racing to Parque O'Higgins in the centre of the Chilean capital – subject to track homologation and approval of the FIA World Motor Sport Council.
The Antofagasta Minerals Santiago E-Prix is set to host round three of the highly-anticipated 2018/19 season and will see the new-look Gen2 cars navigate their way around the perimeter roads of the park and along the esplanade of Parque O'Higgins – a venue which hosts numerous international events throughout the year.
Antofagasta Minerals will not only become the race title sponsor for a second consecutive year in Santiago, but it has also expanded its affiliation with the electric street racing series as official copper mining partner.
Alberto Longo, Co-Founder & Chief Championship Officer at Formula E, said:
I'm incredibly happy that Santiago will again feature on the ABB FIA Formula E Championship calendar for season five. I have particularly fond memories of the event last year and I really like the atmosphere of the city and backdrop against the Andes. I'd like to thank the Mayor Felipe Alessandri for his support – as well as the Minister of Sport Pauline Kantor, the Minister of Energy Susana Jiménez, the Intendenta de la Región Metropolitana Karla Rubilar and the President of FADECH Mauricio Melo Avaria for making it possible to host a race in Chile. Parque O'Higgins is an ideal location for an international sporting event such as ours. Also, I'd like to express my gratitude to Antofagasta Minerals for their continued partnership and I look forward to working closely with them as they join the Formula E family as an official partner.
Felipe Alessandri, Mayor of Santiago, said:
Now we're changing the location, we learned and we listened to the neighbours – we're talking with them to mitigate the negative externalities that means organising this event inside Parque O'Higgins. Therefore, the work is done during the day and retaining open access – swimming pools and recreational areas still in operation. As happened in Parque Forestal, the monies obtained by the concept of municipal rights are invested in projects that improve the quality of life for residents – stories such as the installation of new public lighting, recovery of facades, bollards and improvements to playgrounds, pet areas and the installation of an exercise zone.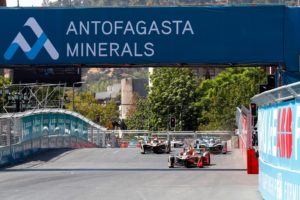 Pauline Kantor, Minister of Sport, said:
We're very happy because Formula E returns to Chile in January. It's great news for all, because it means that we're up to the task as a country to organise big events, which also gives us a lot of visibility and makes Chile shine outside. It's very good news not only in sports, but also for tourism – it means that we can project our country to all parts of the world.
Susana Jiménez, Minister of Energy, said:
We're delighted that this Formula E event is being developed in our country, it's an initiative that is totally aligned with what we want to do and with the commitment we have as a government to promote electromobility. On the energy route, we established one of the mega commitments – multiply by 10 the number of electric vehicles that circulate through our streets, and this is a way to spread this technology and show its virtues. It's clean, doesn't emit noise and has high degrees of safety and autonomy.
Karla Rubilar, Intendenta de la Región Metropolitana, said:
Formula E is a way to make visible and give a boost to electromobility in the metropolitan region and the country. This sports initiative is part of the efforts of the administration and regional government to reduce emissions – leaving fossil fuels aside, along with the commitment that we've just signed at the Climate Action Summit held a few weeks ago in San Francisco. Formula E brings Santiago and its attractions to the world, while enhancing electromobility – ceasing to be a niche theme and reaching all citizens.
Mauricio Melo Avaria, President of FADECH, said:
The Chilean national motorsport federation – FADECH – feels tremendous pride in once again hosting the ABB FIA Formula E Championship in Santiago. FADECH thanks the promoters of this exciting category and the FIA authorities for the trust placed in our institution to take charge of this event – pending the approval of the WMSC. Formula E is no doubt returning due to the incredible success of the E-Prix last season – a product of hard work by more than 250 sports officers who demonstrated great levels of responsibility and commitment. I'd like to take advantage of this occasion to give them due merit. We accept this tremendous new challenge with humility and determination and look forward to putting on a great spectacle.
Iván Arriagada, Antofagasta plc Chief Executive Officer, said:
Supporting the ABB FIA Formula E Championship highlights our commitment to developing electromobility in Chile and the world. Thanks to the use of copper, electric vehicles don't produce greenhouse gas emissions and are an effective response to climate change and pollution in our cities. As one of the largest copper producers, we believe in mining for a more sustainable future and therefore, we're proud to not only sponsor the Antofagasta Minerals Santiago E-Prix, but also the global electric street racing series.