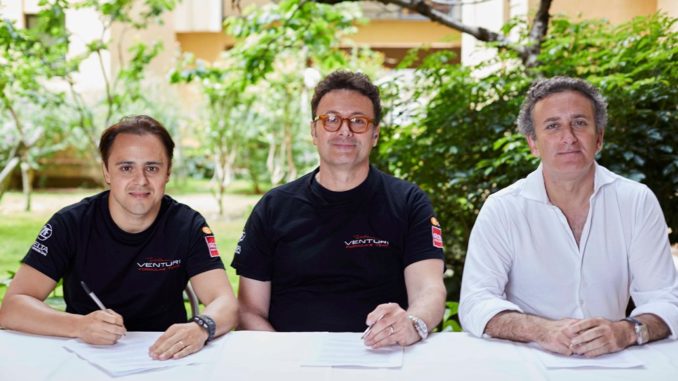 Felipe Massa will arrive at the Venturi Formula E Team as part and parcel of the development process initiated last autumn by the team's founder and president, Gildo Pastor. After first forging a collaboration with HWA AG, then signing an agreement making that company a client of Venturi, Gildo Pastor has now brought Felipe Massa into the fold. The Brazilian driver is set to play a vital role in Venturi's strategy, with six months to go until the new season starts.
Counting on experience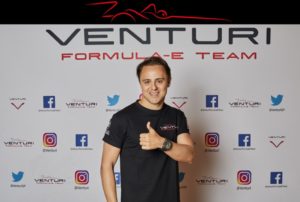 Gildo Pastor has always been committed to ensuring that his teams have a blend of youth and experience, with each generation bringing its particular strengths to the table. Following the recent launch of Venturi Next Gen, the first drivers' academy dedicated to electric motorsports, Venturi Formula E Team has now enlisted the services of one of the world's most experienced drivers. During his 15 seasons in Formula 1, Felipe Massa started 270 Grands-Prix, with 11 race wins, 16 pole positions, 41 podium finishes, and one Vice-World Championship title.
A long term collaboration
Felipe Massa has signed a three-year deal with Venturi Formula E Team and will take part in a private testing session with the Venturi VFE 05 by the end of May 2018. Having been won over by Gildo Pastor's long-term project, the Brazilian driver believes the Venturi Formula E Team boasts the strength of experience, energy and reliability. Indeed, the Monegasque outfit had no retirements due to mechanical issues this season.
Felipe Massa said:
I'm very happy to be joining the Venturi Formula E Team and the Formula E Championship, which has become a magnificent competition in such a short space of time. For some years now, I've been clear about my interest in this innovative, forward-looking discipline that's developing exponentially. I especially like the format of race meetings, the city-centre circuits and the contact with the fans. I can't wait to take part in testing at the end of the month. Gildo has always been a step ahead when it comes to high performance electricity vehicles. The team is in a phase of growth and development. I'll do everything I can to contribute to the project and hopefully I'll be among the front runners.

It's an honour to welcome Felipe to the VenturiI family. I needed him, his experience, his speed, and his openness. Formula E is extremely complex to set up and drive. Even more so than in other disciplines, teamwork between the driver and the engineering team is one of the keys to success. Felipe's 15 years' experience in Formula 1 will definitely give us a boost. And with his humble nature, I know he will listen to the team and master the discipline quickly.