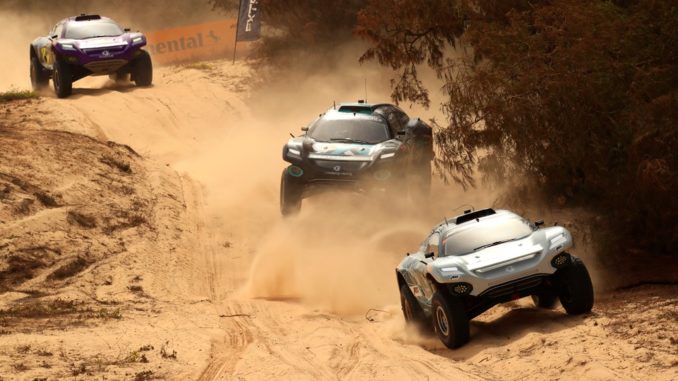 Johan Kristoffersson and Molly Taylor with Rosberg X Racing team reigned supreme once more at Extreme E's second event in Lac Rose, Dakar, Senegal.
The ever-impressive duo overcoming intense pressure from their adversaries to be crowned winners of the first-ever Ocean X prix.
It was low tide but high drama in the grand final with two of the four cars retiring at the first corner, that left Rosberg X Racing to extend their championship lead and Veloce Racing to snatch a surprise result, bouncing back from their disastrous Desert X Prix.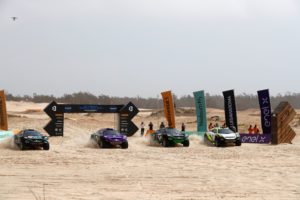 The tight and technical Ocean X Prix course was a hit with the all-star field of Extreme E drivers and yielded close racing and several options for alternate routes which were deployed throughout the two days of competition.
It was Segi TV Chip Ganassi Racing's Kyle LeDuc that took the Super Sector title, earning an extra five points for his team setting the fastest time of 1m50.891s – 1.289 seconds ahead of X44's Sébastien Loeb.
Drama unfolded before the first corner in the Ocean X prix grand Final as GridPlay winners Veloce Racing opted to start on the third grid slot, but the advantage was quickly lost as Stéphane Sarrazin was squeezed out at the first gate dropping back to last position.
JBXE's Mikaela Åhlin-Kottulinsky picked up rear-wheel damage before she even reached the first corner and inevitably was forced to retire the car, as was Cristina Gutiérrez in the X44 car who came to blows with the Rosberg X Racing ODYSSEY 21 – in an incident reminiscent of the two Formula 1 World Champions on-track disputes in 2016 – at turn one and ended her day on the sidelines.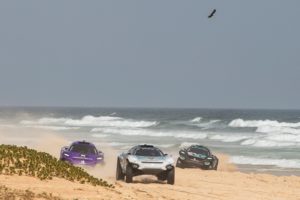 Molly Taylor and Sarrazin were therefore left to duke it out for the lead, with the Frenchman closing the gap throughout the lap and ending his stint hot on the heels of the 2016 Australian Rally Champion.
To ensure officials could safely clear the stricken X44 and JBXE cars, a brief red flag was deployed, as the intense battle for the lead was put on hold whilst the drivers made their way into the switch zone.
A standing start restart was initiated as Jamie Chadwick and Johan Kristoffersson prepared for an all or nothing, one-lap showdown.
A close-fought drag race down to the first gate ended with light contact between the two ODYSSEY 21s handing Kristoffersson the advantage. Once he had reached the technical section of the course, the three-time FIA World Rallycross Champion began to stretch his legs opening up a 15-second advantage to win Rosberg X Racing's second Extreme E X prix in succession.
With the tide coming in on a spectacular Ocean X Prix, the Extreme E fraternity will return to the championship's floating paddock – the St Helena – and head north to Greenland for the Artic X Prix on 28/29 August.
Final Result
Rosberg X Racing (Johan Kristoffersson / Molly Taylor) 2 laps
Veloce Racing (Stéphane Sarrazin / Jamie Chadwick) +14.676s
JBXE (Kevin Hansen / Mikaela Åhlin-Kottulinsky) DNF
X44 (Sébastien Loeb / Cristina Gutiérrez) DNF
Championship Standings
Rosberg X Racing(Johan Kristoffersson / Molly Taylor) 71 points
X44(Sébastien Loeb / Cristina Gutiérrez) 57 points
JBXE(Jenson Button / Mikaela Åhlin-Kottulinsky) 44 points
Andretti United Extreme E(Timmy Hansen / Catie Munnings) 37 points
XITE ENERGY RACING(Oliver Bennett / Christine GZ) 37 points
ACCIONA | Sainz XE Team(Carlos Sainz / Laia Sanz) 36 points
ABT Cupra XE(Mattias Ekström / Claudia Hürtgen) 35 points
Veloce Racing(Stéphane Sarrazin / Jamie Chadwick) 31 points
Segi TV Chip Ganassi Racing(Kyle LeDuc / Sara Price) 30 points
Source: Extreme E