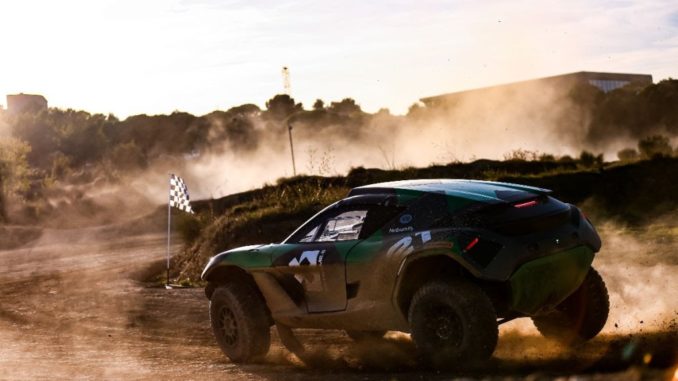 The Extreme E race line-up has been completed with Lac Rose in Senegal, on the West Coast of Africa, confirmed as the Ocean race location for the inaugural season.
Extreme E is the pioneering new electric off-road racing series which uses sport to raise awareness of global climate issues.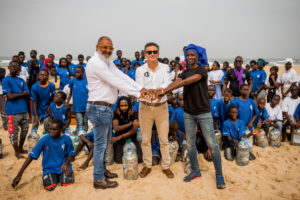 Alejandro Agag, Founder and CEO of Extreme E, joined Abdou Thiam, President of the Senegalese Motorsport Federation, to make the announcement during a community beach clean at the proposed race site at Lac Rose – also known as Lake Retba – approximately 30 kilometres from the Senegalese capital, Dakar.
Alejandro said:
I'm thrilled to confirm Senegal as our Ocean race location. This is an area of outstanding natural beauty but sadly, like many of the world's coastal areas, it is under severe threat from a variety of climate issues.

This coastline is currently losing three to four meters each year, with a key contributor to this being Greenland's melting ice cap, even though it is over 6,500km away in the Arctic Circle. With 30 per cent of the planet's CO2 emissions coming from transport which contributes to the planet's warming, Extreme E will showcase the performance of electric vehicles, using a powerful mix of thrilling sports action, scientific education and storytelling, to accelerate the adoption of e-mobility to help make the world more sustainable, faster.

We hope Extreme E will inspire sports fans, along with the communities and governments in our race locations and beyond, to raise their climate ambition in a united effort to limit global warming to 1.5°c. This is a race we can – and must – win to avoid significantly worsening the risk of extreme temperatures, glacial melting, rising sea levels, droughts, flooding, and more, for hundreds of millions of people, including those living here in Senegal.
Alejandro added:
Today, in celebration of our announcement we are pleased to start efforts off as we mean to go on by working with to.Org, a local organisation, to organise a community beach clean of the race location here at Lac Rose. The plastic collected will be used to make eco bricks to help build bathrooms for over 300 school children who currently ony have two to use. A first step as we look to build a positive long-term relationship with the local community ahead of our race event in 2021.
Abdou Thiam, President of the Senegalese Motorsport Federation, said:
We're very happy to host Extreme E, which is surely the future of motorsport. The sport has a huge responsibility in helping people understand the issue of climate change and we're proud to be a part of this adventure.
Extreme E is a radical new motor racing championship which will see E-SUVs go head-to-head in some of the world's most remote environments. The goal is to highlight the impact that climate change and human interference are already having on these ecosystems, whilst promoting the adoption of electric vehicles to help preserve the environment, drive sustainability and protect the planet.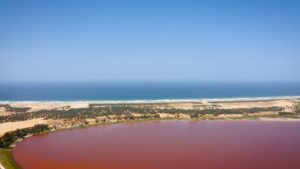 Senegal is the fifth and final location to be confirmed for Season 1, joining Kangerlussuaq in Greenland, the Amazon Rainforest in Brazil, Saudi Arabia and Nepal's Himalayas, as the five arenas featuring in the inaugural calendar.
To.Org is an accelerator for the earth's most vital ventures. Its presence in Dakar is focused on bringing partners together to address the region's most critical social and environmental issues – rising sea-levels, marine ecosystem degredation and desertification – worsened by overfishing, inadequate waste management and climate change. Extreme E has utilised to.Org's unique understanding of Senegal in identifying Lac Rose as a race location.
Nachson Mimran, co-founder and CEO of to.Org, said:
Growing up in Senegal, I have experienced first-hand the challenges that the Sahel region faces due to climate change. These challenges make Senegal a compelling choice for Extreme E's debut Ocean race.

Extreme E is an ecologically focused and modern race series with a mission to leave behind a positive legacy that will work with the local infrastructure and help tackle the problems we face in Senegal. It is inspiring to welcome a championship like this to our country.
As well as working with local community groups, Extreme E will also utilise world leading minds in science to help advise on legacy initiatives, research and education programmes in each location. Dr Lucy Woodall is a Principal Scientist from Nekton Foundation, specialising in specialising in understanding the impacts humans have on the marine environment.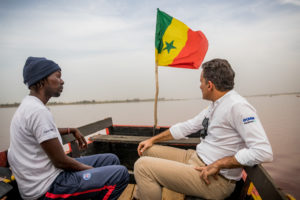 Dr Lucy Woodall says:
We only have a healthy planet, if we have a healthy ocean. Human activities have been impacting the ocean for decades, these have become more evident recently. The most obvious of these is sea level rise. Human enduced rapid sea level rise is a consequence of climate change. This leads to decreased stablility of coastal ecosystems and a decrease in biodiversity. In addition, sea level rise increases risk for coastal communities which lose their biological protection – mangroves, forests and coral reefs – from storms. Sea level rise is consequently a disaster for marine biodiversity and the human societies whose survival is dependent upon them.

Extreme E offers a new and rather exciting platform to highlight these important issues with new audiences and I'm interested to see sport being used for awareness in this this way.
The racing action in Senegal will take place over three days, within an area no larger than 10 km². Track designers have been tasked with carefully selecting course options, which provide the most challenging, exciting racing action.
In Senegal, sand bars, salt beds, gravel, rocks and undulations will provide the series' drivers, teams and the cutting-edge ODYSSEY 21 E-SUV with a real challenge, as they navigate the narrow off-road sand tracks between and around the striking Lac Rose, and the Atlantic Ocean beyond.
Captions:
Extreme E Founder Alejandro Agag celebrates with local children at a community beach clean
L-R Abdou Thiam of the Senegalase Motorsport Federation, Alejandro Agag and Vera Diop from to.Org Alejandro takes to Lac Rose with Mor, an elder from a nearby village Below
The community beach clean marked Extreme E's fifth location announcement
Alejandro and local children tackling the beach litter
Lac Rose from above
Existing tracks surrounding the lake will form the eventual stages
The Extreme E E-SUV ODYSSEY 21
Source: Extreme E