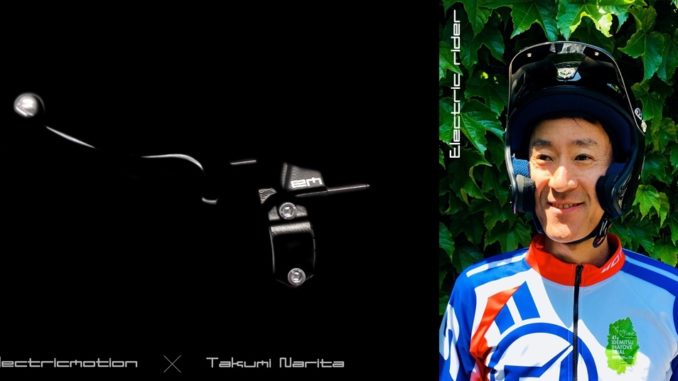 French company Electric Motion presents the factory riders to the World Championship Trial-e
Takumi Narita : Elegance and kindness for this exceptionnel rider
Takumi Narita, one of the most stylish Trial rider in the World, is appreciated by all. In the world championship in the Trial-E Category he will be at the handlebar of Electric Motion brand new prototype Epure! for the French round, in Auron, July, 14th/15th and the Belgium round, in Comblain au Pont, July 21st/22nd
As an importer of Electric Motion brand in Japan, he is one of those who promote the electric trial and as his partner Christophe Bruand, he does not come on this type of Championship as an opportunist.
Takumi: "I am honored to be able to participate as a rider of e-pure… I'll do my best." And about his brand new Epure : "Super nice !!! I couldn't imagine this smart style"
Christophe Bruand: eclectic rider, electric rider back to competition
Electric Motion announce also the return of Chris Bruand to competition. He will ride the World Championship in the trial-E Category, for the French round, in Auron, July, 14th/15th and the Belgium round, in Comblain au Pont, July 21st/22nd
After stopped his career as French Champion in 2008, he is on the handlebar of a brand new prototype that he returns to the World Championship !
Perhaps the most eclectic rider in Trial world (4 stroke for his last title, 2 stroke, classics bikes with his triumph or BSA, and electric). He will ride on the prototype Epure to the Electric Motion brand, he has just discovered few days ago… maybe 10 years later, World Champion again?