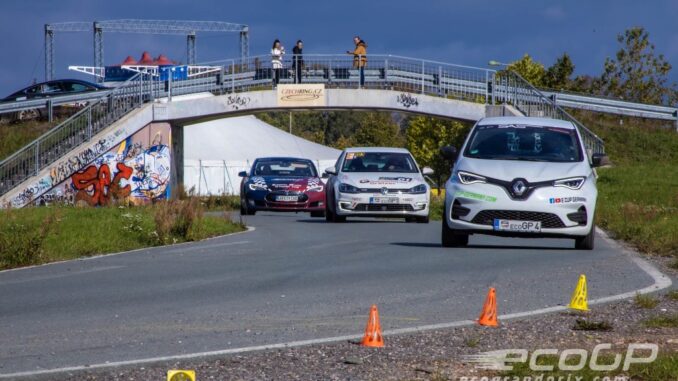 The second 24 hours endurance race with electric cars of this season took place in Czech Republic at Park 360 near the Hradec Králové.
Seven teams with electric cars competed for the winner title and all team members had the opportunity to participate at the Slalom which was organized for fun and participants aligned at the starting line according to Slalom qualification.
Slalom competition organized for fun – results and qualification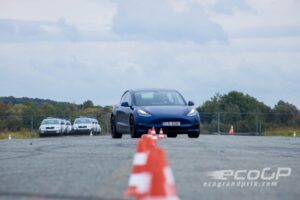 Seven teams with electric cars from following brands participated: Tesla Model S, Tesla Model 3, Skoda Citigo-e, Renault Zoe, Volkswagen e-Golf and Hyundai Kona. Three Czech teams, two Romanian teams and two German teams enjoyed the thrilling event. Team Tesclicka Challengers from Czech Republic – the winner of ecoGP's famous competition at Nürburgring 2021 and Transilvania Motor Ring 2022 – won this Slalom competition with the best time driven by Ondrej Huncovsky with Renault Zoe – 00:24:35.
Slalom Ranking:
Ondrej Huncovsky, Teslicka Challengers 00:24:35
Zdenek Martinek, Pneumatiky – 00:24:49
Cosmin Mihaiescu, Tesla Happy Owners Romania – 00:24:98
Pavel Baron, Teslicka All-stars – 00:26:30
Jiri Zima, Teslicka All-stars – 00:27:49
Czech Ring 24 Hours endurance race – official results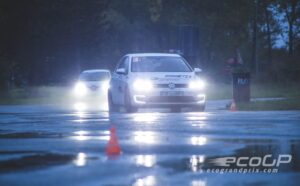 Teams started Saturday October 1st at 4PM sharp the first 24 hours race at Czech Ring and the second race of 2022 season. During the competition several times the leader changed during the charging stops but at the end the Team from the Teslicka CZ Challengers won this race. They participated with a Skoda Citigo-E and had 675 laps.
Official ranking:
Teslicka CZ Challengers with Skoda Citigo-E – 675 laps;
Teslicka CZ All-Star with Hyundai Kona – 669 laps;
Pneumatiky with Tesla Model 3 – 651 laps;
e-Cup-Germany with Renault Zoe – 626 laps;
Tesla Happy Owners Romania – 620 laps;
E-Golfis -with Volkswagen e-Golf – 379 laps.
The real challenge was to drive the maximum number of laps having only 32A three phase sockets available and driving in raining conditions, but the teams faced this challenge and a part of them already registered for the next race.
The next races of 2022 season will be the Rund und Schotten 24h Challenge, October 7th-9th.
Fonte: Eco Grand Prix