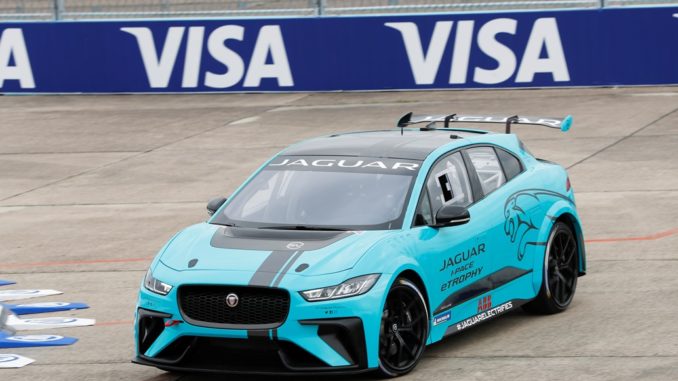 Launching in 2018 (Season Five), the Jaguar I-PACE eTrophy race car will be the support championship of the ABB FIA Formula E Championship.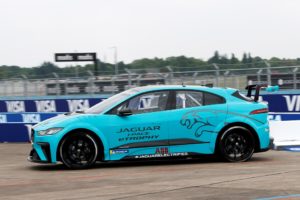 Running before the main Formula E race, 20 drivers racing 20 modified Jaguar I-PACE race cars will be pitted against each other in identical specifications cars – ensuring that races are close, competitive, and entertaining in the narrow streets of some of the world's most famous cities.
Experienced drivers looking for a new challenge will compete alongside up-and-coming talent from around the world.
Each year, the champion will be offered the opportunity to put the Jaguar I-TYPE through its paces with the Panasonic Jaguar Racing Formula E team.
Jaguar I-PACE: the next revolution
The Jaguar I-PACE is the world's smartest, five seater sports car; performance car, family car and SUV all in one.
Its groundbreaking design, true Jaguar performance, competitive range and charging times will make this unique combination a real electric alternative to a traditional premium SUV.
Launching in 2018, the Jaguar I-PACE sets a template for others to follow, just as we have always done.
Race to innovate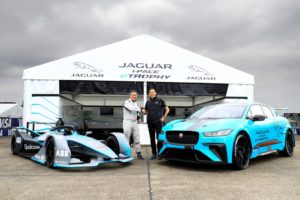 Jaguar will be the first performance car brand to launch in the electric market with the I-PACE. We will lead the British atomotive industry into an electric future – and do it in style. We will develop the next generation of EV technology on the race track.
This is why the race: race, innovative, inspire.
Racing around the world with Formula E
The Jaguar I-PACE eTrophy will be the support series for the ABB FIA Formula E Champiolnship, taking place on the same race weekend sas 10 rounds of the championship in the world's most celebrated cities in Asia, South America, Europe and North America.
Championship overview
The Jaguar I-PACE eTrophy race car will be the first International Electric Production Car Championship.
What
20 Jaguar I-PACE eTrophy race cars identical specification with scope for driver set-up and adjustment
20 I-PACE eTrophy race cars prepared and run by Jaguar Racing
10 round main support Championship to ABB Formula E
Where
International Championship supporting 10 ABB FIA Formula E Events
Asia, South America, Europe and North America
When
Commences in December 2018 (Season Five), subject to calendar from FIA.
Championship overview continued
The Jaguar I-PACE eTrophy race car will be designed, engineered and built by Jaguar Land Rover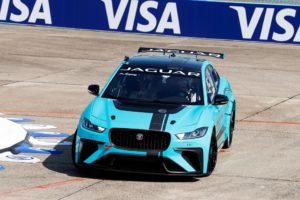 Special Vehicle Operations.
Retail price of £200.000 + VAT per car – eligible for three years
£ 450.000* + VAT Entry Fee per annum provides entry into 10 international race weekends as the main support Championship to ABB FIA Formula E. Complete arrive and drive package for competitors
Vehicles, spare parts and equipment shipped by our appointed logistics partner to each event
Upon arriv/al at the circuit all the garages dressed and vehicles prepped ready for the race weekend
All promotions and marketing of the Championship and race weekends will be undertaken by Jaguar Racing and Formula E
Allocated hospitality for entrants within the Jaguar Race Centre with the ability to purchase further places for sponsor guests.
Race by race prize money for top 10 finishers
End of Season Prize – for top three drivers and top three entrants
Championship race suits and team wear will be provided for each driver
A television and digital broadcast package including full race coverage as well as highlights and supporting content
Dedicated areas upon race suits and race cars for personal branding
Two places to the End of Season Awards Ceremony
Drivers are required to have a minimum of an International C Circuit Race Licence
FIA Driver Category of Bronze, Silver and Gold eligible
Technical information
Two synchronous electric motors, one driving each axle
Fully stripped interior with FIA-approved spec safe cage
Seat and harness
Chassis based upon production Jaguar I-PACE with modifications made to increase contact patch stiffness and ability to offer driver adjustability
Aerodynamics enhancements and chassis adjustability to ensure closer racing
Sophisticated energy, power and regen strategy control introduces a new element of racing that is unique to battery electric vehicles
Software-enabled race modes providing drivers with additional parameters for performance
Championship timetable
August 2018: Fist official Jaguar I-PACE eTrophy Pre-Season Test Session held in the UK. 1,5 driver acclimatisation days, this involves;
0,5 day of driver tuition on safety training to Jaguar Land Rover standards and the FIA
1 day of driving and acclimatisation to your new race vehicle
October 2018
Two further official pre-season test days to be held in the UK
Race simulation of a fully operational race weekend to be held in the UK
Spreading the world online
Fans will be able to follow the progress of the Jaguar I-PACE eTrophy online throughout the season through bespoke content and comunications. Syndicated and distributed across all Panasonic Jaguar Racing and Jaguar Land Rover channels, raising the profile of the series and our partners.
76.800.000 total owned and earned reach of Jaguar & Jaguar Racing Channels
3.100.000 total interactions on Jaguar & Jaguar Racing Channels
The race weekend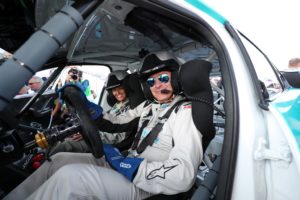 Upon arrival at the circuit, teams will be directed to their dedicated garage where their vehicle will be fully prepped and ready to race
Personnel within each garage, containing two cars, will consist of:
x1 dedicated race engineer
x1 number one mechanic per vehicle
x1 shared number two mechanic
Typical race week end itinerary
Thursday
Teams arrive at the circuit to meet with the team and engineers
Friday
10.00 – Track walk
14.05 – Free practice
17.35 – Free practice two
Saturday
09.25 – Qualifying (25 minutes)
13.20 – Race (25 minutes + one lap)
* Final race weekend may be subject to change
Jaguar I-PACE eTrophy technical specifications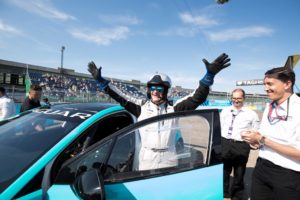 Battery
The I-PACE eTrophy race car users the same high-tech Lithium-ion battery found in the production I-PACE, which has a capacity of 90 kWh
Powertrain
AWD produced by a front and rear motor for a total maximum peak power output of 400 PS and 700 Nm of torque
0-100 km/h: 4,5 sec approx.
Weight without driver (kg): TBC
Max speed: 195 km/h
Aero
Aerodynamics of the production I-PACE have been enhanced on the I-PACE eTrophy race car with the addition of a front splitter, rear diffuser and adjustable rear wing. Additional air intakes have been added to provide more cooling.
Data acquisition
Cosworth Dash Display / Data Logger, Intelligent Power Management System, Data Analysis System, including video synchronized overlays.
Body
The I-PACE eTrophy race car uses a lightweight, all aluminium structure, which has been modified from the production spec to allow the fitment of an FIA safety roll cage. Some production aluminium body panels will be exchanged with composite panels to save weight.
List of body panels in composite, bespoke from production car:
Front bumper
Front fenders
Rear bumper
Side stills
Bonnet
Dimensions
Length (splitter to wing): 4.855 mm
Overall width: 2145 mm
Height: 1.525 mm (roofline)
Front Track: 1958,97 mm
Rear Track: 1985,57 mm
#JaguarRacing