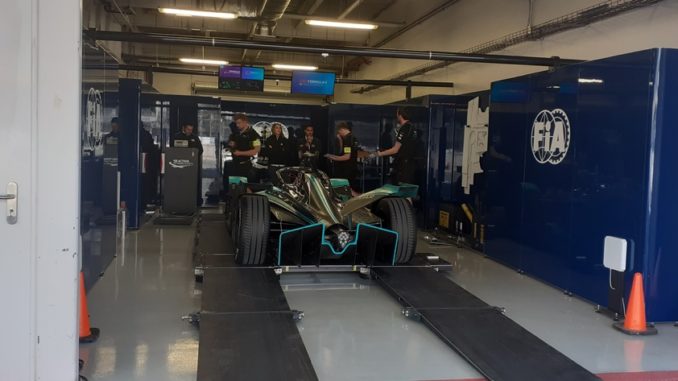 Una sintesi delle sanzioni applicate dalla Federazione Internazionale dell'Automobile prima del Mexico City E-Prix di Formula E.
I piloti soggetti alle prove di extrication del venerdì sono stati Brendon Hartley (Geox Dragon) e Lucas di Grassi (Audi Sport Abt Schaeffler Formula E Team).
Per aver fatto un track walk non autorizzato il giovedì quando la pista era ancora in costruzione, il team Envision Virgin Racing è stato sanzionato con una multa di 2.500 Euro.
I tempi che costeranno le penalità sono i seguenti: Drive Through 27 secondi e uno stop and go da 10 secondi costeranno complessivamente 42 secondi.
Jerome d'Ambrosio and Pascal Wehrlein hanno rimpiazzato due cambi delle loro Mahindra e di conseguenza i piloti saranno penalizzati di 40 posizioni a partire dalla prossima gara in cui i piloti prenderanno parte. Non potendo retrocedere più di 20 posizioni, la sanzione viene rimpiazzata per uno stop and go da 10 secondi quando il direttore gara lo segnalerà. La ragione di questo è l'uso di due cambi in più di quello previsto dal regolamento.
Ma QingHua ha utilizzato maggior potenza nello shakedown, 123,04 kW contro i 110 kW previsti da regolamento e ha preso una multa da 1.000 Euro.
James Calado non ha rispettato le istruzioni riguardo la carica/scarica della batteria della sua Jaguar, prendendo una multa di 1.500 Euro.
Lo stesso importo della multa a Felipe Massa per aver utilizzato oltre 200 kW di potenza nei giri 3 e 5 delle prime prove libere e nelle seconde libere ha transitato a 58 km/h nella pit lane, sommando altri 800 Euro di multa.
Maximilian Günther invece ha usato quattro volte potenze superiori ai 200 kW nelle prime prove libere (nei giri 3, 4, 5 e 6) e di conseguenza la multa è di 2.000 Euro.
Ammonimento a Nick De Vries per aver lasciato la pista senza una ragione giustificabile nel giro 16 delle prime prove libere, ma multato con 1.500 Euro per non aver rispettato i limiti di raffreddamento delle batterie.
Mille Euro di multa a Edoardo Mortara per aver utilizzato maggior potenza dai 200 KW previsti nelle prime prove libere.
Mitch Evans è in attesa della sanzione per aver lasciato la pista senza una ragione nelle seconde prove libere.
Oliver Turvey ha richiesto l'autorizzazione per iniziare la gara anche se il miglior giro di qualificazione supera il 110% e i commissari l'hanno concessa.
Infine, il team Audi Sport ABT Schaeffler ha dato il permesso a Daniel Abt di partecipare alla gara nonostante non aver fatto le qualifiche per l'incidente subito nelle seconde prove libere.
#MarceloPadin #TheEMNteam