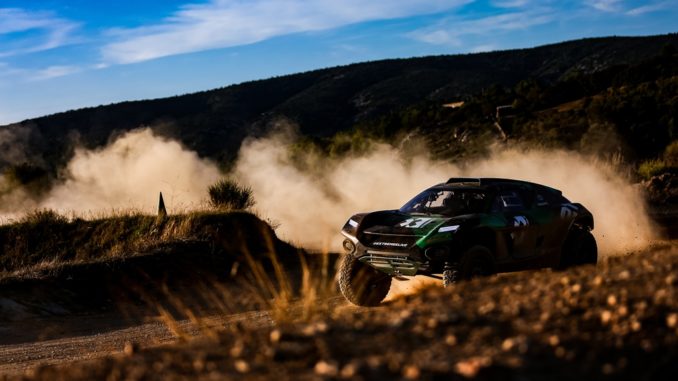 The Calendar for inaugural season of Extreme E has been revealed and the revolutionary new electric off-road racing series will race in 5 locations.
The Season 1 calendar of the new electric off-road racing series using motorsport to raise awareness of global environmental issues – set to get underway in January 2021.
The five-race global voyage, spanning four continents, will highlight the impact of climate change and human activity on some of the world's most remote locations, while promoting sustainability and the adoption of electric vehicles to help protect the planet.
Extreme E's inaugural campaign will get underway with its Ocean leg on the shores of the stunning, and aptly named pink-hued Lac Rose on the West Coast of Africa, roughly 30 kilometres from Dakar, Senegal, in mid-January.
Sand bars, salt beds, gravel, rocks and undulations will provide a real challenge, as drivers navigate the narrow tracks between and around the striking body of water – also known as Lake Retba – and the Atlantic Ocean beyond.
The RMS St. Helena – the former Royal Mail Ship which fulfils the role of the championship's unique floating paddock – will then set sail for the Middle East in March and the series' Desert event in Sharaan, Saudi Arabia.
The Kingdom's terrain is spectacular and varied as well as unforgiving, providing a huge canvas with which to create exciting, technical stages, while pushing drivers and teams to their limits.
Next, Extreme E heads to the subcontinent ahead of the Mountain round in the heart of the Himalayas and Nepal's Mustang District in May.
The Kali Gandaki valley – site of the deepest gorge in the world – will provide a stern test for competitors at 2,750 metres above sea level amid the stunning Annapurna region of Nepal, with the mountain range bearing the same name looming over the arena.
Then, on to Kangerlussuaq in Greenland for August's Glacier round, set to take place in a landscape carved out by extreme cold and the once-mighty glaciers that dominated the region for thousands of years – now in rapid retreat at the hands of climate change.
At the end of October, the state of Pará in Brazil will round things off with the Rainforest race weekend, set in the heart of the Amazon on a tract of land deforested by slash-and-burn agriculture.
Provisional Extreme E Season 1 (2021) calendar
22-23-24 January: Lac Rose, Dakar, Senegal
4-5-6 March: Sharaan, Al-'Ula, Saudi Arabia
6-7-8 May: Kali Gandaki Valley, Mustang District, Nepal
27-28-29 August: Kangerlussuaq, Greenland
29-30-31 October: Santarém, Pará, Brazil
Source: Extreme E