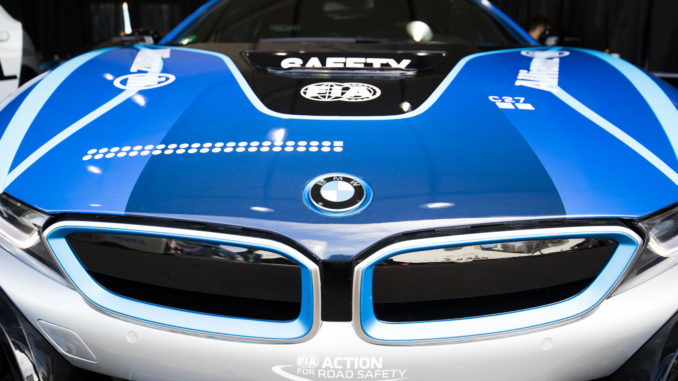 German manufacturer to continue to provide the BMW i8 used as the Qualcomm Safety Car as well as other models
Source: Formula E
Hong Kong. December 1, 2017. BMW i has extended its partnership with the FIA Formula E Championship as Official Vehicle Partner – continuing its ties with the electric street racing series as part of a multi-year agreement.
The announcement was made following an event in the BMW Wan Chai showroom in Hong Kong – with both Jorg Reimann, Vice President BMW Brand Experience, and Alejandro Agag, Founder & CEO of Formula E in attendance.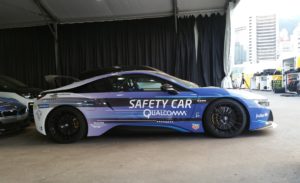 Ahead of the season-opener in Hong Kong on December 2 & 3, the German manufacturer confirmed its commitment to Formula E – supplying a fleet of vehicles, including the new-model BMW i3s medical cars and the futuristic-looking BMW i8, which is used as the Qualcomm Safety Car.
Alejandro Agag, Founder & CEO of Formula E, said:
"It's fantastic news that BMW i is extending its commitment as Official Vehicle Partner. Even when Formula E was just an idea and didn't exist, we had BMW on board as a partner that believed in this project from the very beginning. It's a legendary brand in the world of sports and in the car industry, and soon we'll also have them in the pitlane trying to win. So, I can just say – welcome to the pitlane, and welcome again as a strong partner of Formula E."
Jorg Reimann, Vice President BMW Brand Experience, said:
"It was almost a logical step for us to get involved in Formula E with BMW i in 2014 – and it's just as logical to continue the partnership in the coming years. Formula E is breaking new ground in motorsport in many ways, just as BMW i does in terms of the mobility of the future, which is why the combination works really well. We're particularly looking forward to seeing the BMW i3s on the track this season. It's the sportiest BMW i3 there has ever been. This model clearly demonstrates how BMW i combines driving pleasure with premium character that is consistently geared towards sustainability."