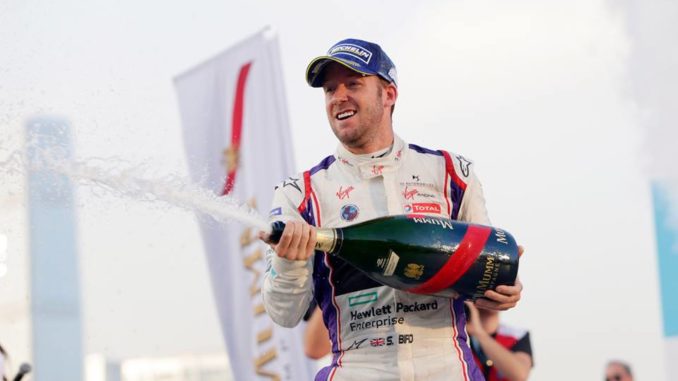 DS Virgin Racing driver wins against the odds on Hong Kong Central Harbourfront as di Grassi and Buemi hit trouble
Source: Formula E
Hong Kong. December 2, 2017. The FIA Formula E Championship sparked into life for the start of the new season with a gripping opening contest in Hong Kong, where Sam Bird sealed a surprise victory despite picking up a penalty for not stopping in his allocated space during the mid-race car swap.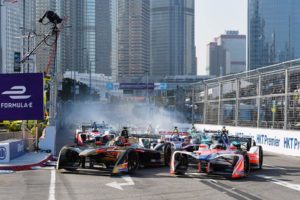 Bird entered the pitlane eager to retain the advantage he'd built over TECHEETAH's Jean-Eric Vergne, but attacked his marks too aggressively on the dusty surface and skated to a halt outside the front of his garage.
He managed to jump out and into his second car without losing too much time. However, Bird didn't make his mandatory car change in the box allocated to the driver – picking up a drive-through penalty in the process. But it wasn't enough to stop him.
There were several contenders in a hotly-contested battle as Bird faced his former team-mate Vergne for the majority of the opening stint. Vergne led the way from Julius Baer pole position, fending off the fast-starting Mahindra of Nick Heidfeld.
As the cars filtered through the tight chicane of Turns 3 & 4, Formula E debutant Andre Lotterer collided with the wall – blocking a gaggle of cars behind. Lotterer was avoiding the bottleneck and pitched into the barriers on the outside, holding back Mitch Evans, Nico Prost, Edoardo Mortara and Neel Jani behind.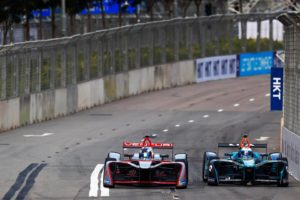 The E-Prix came to an abrupt halt as the incident brought out the red flags and after a delay the race got back underway behind the Qualcomm Safety Car. Vergne looked immediately under pressure from Bird in his mirrors and couldn't hold him back after a lunge up the inside of the Turn 6 hairpin.
Despite serving his penalty, Bird emerged narrowly in front of the chasing pack. The British driver must have breathed a huge sigh of relief after a botched pitstop cost him a chance of fighting for the win in Hong Kong last year.
Speaking about the shock result, Bird added:
"That was a really crazy race, I'm still trying to process what happened really. It's unreal for me winning after a driving-through penalty in Formula E. I'd like to thank the team, we knew it would be tough this year with lots of close competition. When I came out the pits there was a TECHEETAH in front of me and thought it was JEV, so I was pushing hard to catch him! It turned out I was in the lead and I never in a million years expected that."
Although, it's a bittersweet result for Bird after being handed a 10-place grid penalty for tomorrow's race for dangerous driving in the pitlane.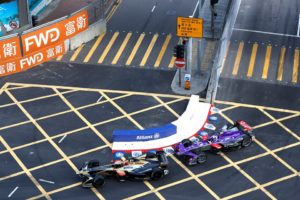 Vergne defended his position stoutly throughout the race and admitted to struggling without regen and no communication to the team over radio – making it feel like a victory for the TECHEETAH team.
He said:
"This race was by far my most difficult race – I had no radio communication, I spoke to my engineer only twice in the race and I had no regen. So, if this morning somebody told me I'd have these issues, I wouldn't even take the start of the race. To finish second off the back of this is almost like a victory to us. We're hoping to fix things overnight and come back stronger tomorrow."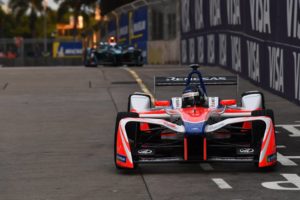 Heidfeld saw a lot of Vergne's rear wing throughout the E-Prix – trying to pass the Frenchman in every direction, but second place still eludes him as the Mahindra driver settled for another third-place finish.
"It's probably one of the third places I'm least happy about," said Heidfeld. "Hopefully this changes in the next couple of days. The team has done a good job and to finish on the podium is always a good result, and you have to focus on collecting the points for the season. JEV said he had a lot of problems – I tried hard to overtake him, but I'm not that happy as I thought it was too much."
Reigning Formula E champion Lucas di Grassi and main rival Sebastien Buemi both failed to score. Di Grassi was forced to pit early and switched to his second car after sustaining damage to his right-rear suspension, while Buemi stopped on track with a technical glitch.
The teams and drivers don't have long to rest, as the action gets underway again for the second helping of the HKT Hong Kong E-Prix double-header tomorrow.
Here you can see the highlights of race 1 Hong Kong ePrix
2017 HKT Hong Kong E-Prix (Rd 1) – Race results
1 – Sam Bird, DS Virgin Racing, 1:17.10.486s (25)
2 – Jean-Eric Vergne, TECHEETAH, +11.575s (21)
3 – Nick Heidfeld, Mahindra Racing, +12.465s (15)
4 – Nelson Piquet Jr, Panasonic Jaguar Racing, +15.324s (12)
5 – Daniel Abt, Audi Sport ABT Schaeffler, +17.205s (11)
6 – Antonio Felix da Costa, Andretti Formula E, +18.083s (8)
7 – Edoardo Mortara, Venturi Formula E Team, +19.797s (6)
8 – Alex Lynn, DS Virgin Racing, +20.904s (4)
9 – Nico Prost, Renault e.dams, +24.785s (2)
10 – Luca Filippi, NIO Formula E Team, +25.500s (1)
11 – Sebastien Buemi, Renault e.dams, +26.202s
12 – Mitch Evans, Panasonic Jaguar Racing, +34.871s
13 – Maro Engel, Venturi Formula E Team, +35.752s
14 – Felix Rosenqvist, Mahindra Racing, +41.174s
15 – Kamui Kobayashi, Andretti Formula E, +48.422s
16 – Oliver Turvey, NIO Formula E Team, +1 Lap
17 – Lucas di Grassi, ABT Schaeffler Audi Sport, +1 Lap
18 – Neel Jani, DRAGON, +1 Lap
DNF – Jerome D'Ambrosio, DRAGON, 34 Laps
DSQ – Andre Lotterer, TECHEETAH, 43 Laps
Driver standings
Sam Bird, DS Virgin Racing – 25
Jean-Eric Vergne, TECHEETAH – 21
Nick Heidfeld, Mahindra Racing – 15
Nelson Piquet Jr, Panasonic Jaguar Racing – 12
Daniel Abt, Audi Sport ABT Schaeffler – 11
Team standings
DS Virgin Racing – 29
TECHEETAH – 21
Mahindra Racing – 15
Panasonic Jaguar Racing – 12
Audi Sport ABT Schaeffler – 11
Andretti Formula E – 8
Venturi Formula E Team – 6
Renault e.dams – 2
NIO Formula E Team – 1
DRAGON – 0