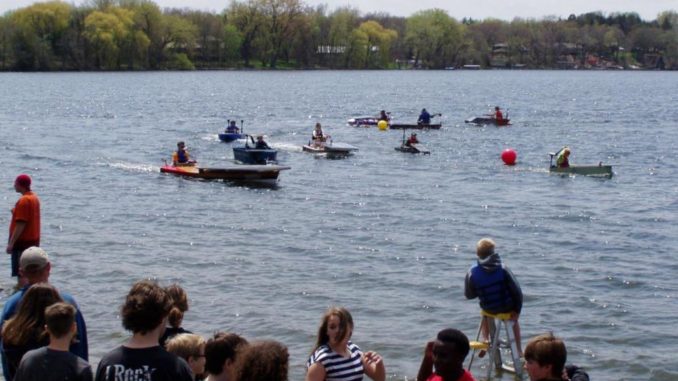 Hartmut Ginnow-Merkert, the President of Berlin-Brandenburg Solar Boat Association, comunicate that the eight yearly EU Championship for solar boats on Lake Werbellin will take place on June 30th this year.

Those that would like to participate at the Solarboot Regate can send the own registration before May 31th with the comunication of the needs for the team.
Please send your registrations before May 31th, comunicating if you need any of our cabins again for your teams.
If your boat has participated at our Lake Werbellin regatta before and if the tech specs haven't changed, you can just comunicate the name of the boat, but all technical data is necessary if the boat has been modified or if it's completely new.
Following the data that it's necessary to comunicate to the organizers of the Berlin-Brandenburg Solar Boat Association:
boat name
contact info team leader
regatta class (I, II or III) – see rules/regulations
length, width
photovoltaic power (Wp)
battery type and capacity (if you use lead acid batteries, use data for C5)
max. speed (approx.)
one photograph
Organizers confirm that there is ample space on-site for tents,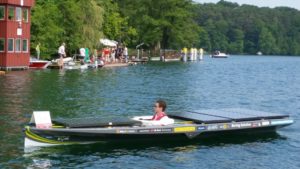 motorhomes and trailers, while the cars can be parked nearby. A small number of simple cabins for up to 5 or 6 persons is available upon request, 25€ flat for two nights (Fri – Sun), 45€ flat for three nights (Thu – Sun). There is also a mandatory start fee of 50 Euros for non-members, 20€ for members.
The boats will have to carry proper identification for boats on German federal waterways, and also is need liability insurance to cover any damages your boat causes to other boats or infrastructure.
The technical inspection will take place on Friday, so all boats have to be ready and available for inspection no later than Friday afternoon, 29 June.
The final program will be comunicate soon.