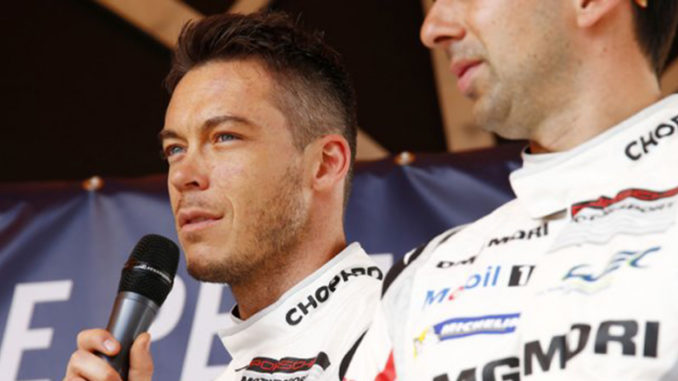 Andre Lotterer will partner Jean-Eric Vergne at the Techeetah Formula E team for the fourth season of the FIA Formula E Championship…
by Sam Smith
Photo: Porsche
Source: e-racing365
September 26, 2017. Andre Lotterer will partner Jean-Eric Vergne at the Techeetah Formula E team for the fourth season of the FIA Formula E Championship, e-racing365 can reveal.
The three-time 24 Hours of Le Mans winner is set to undertake his first running in a Renault-powered Techeetah car at the official Valencia test next week.
Lotterer's signing marks the second Porsche-contracted driver to join Formula E after Neel Jani, his teammate in the No. 1 Porsche 919 Hybrid, was firmed up for the Dragon Racing squad last month.
Lotterer also joins fellow current FIA World Endurance Championship driver Jean-Eric Vergne at the Techeetah team.
"This is a good opportunity to go for a new challenge which is very motivating and exciting for me," Lotterer told e-racing365. "I've always been a Formula guy, as well as an endurance driver with what I have done in Japan, so I sensed an opportunity to keep things going.

"WEC changed when Porsche pulled out, so I guess it has all come together for me to take part in this new challenge with Techeetah."
Lotterer believes that he and his new teammate Vergne will forge a strong alliance at the Chinese-owned Techeetah team for Season Four.
"Formula E is obviously becoming really exciting and I am looking forward to racing for a really good team which has recently won a race," he said.

"Jean-Eric is a key player in the team and he has won a race already. I am looking forward to working with him.

"We will have a good relationship to push the team forward. I speak fluent French so I'll be home in some ways there."
The move to secure Lotterer's services for the forthcoming Formula E season comes after protracted negotiations throughout the last five weeks.
Lotterer is coming off an eight-season stint as a factory endurance driver with Audi and Porsche, and is considered one of the best sports car drivers of his generation.
His single-seater career has been successful and varied and includes titles in Formula BMW, race wins in German and British F3 series, and championship success in the 2011 Formula Nippon series.
Lotterer currently sits sixth in the 2017 Super Formula series where he races with Vantelin Team TOM's.
The German also made a brief cameo appearance in Formula One when he took part in the 2014 Belgian Grand Prix for Caterham.
Lotterer Heads off Lopez and Palmer Interest
Techeetah, which won the final ePrix of season three in Montreal last July with Vergne, is understood by e-racing365 to have spoken to representatives of both Jose-Maria Lopez and Jolyon Palmer about a possible berth earlier this month.
Lopez was an option for Techeetah, after strong interest from both the Argentinean's manager Nicholas Todt and DS Performance.
Techeetah is strongly rumored to be entering in to a technical alliance with DS Performance for the 2018/19 season. This will almost certainly mean that DS' current partner, Virgin Racing, will find an alternative powertrain provider for Season Five.
E-racing365 understands that Lotterer was always the preferred option and has signed a deal for one season with options for at least a second year.
Techeetah, which are not granted test days in the off-season due to being a customer team, will commence preparations for the coming season at Valencia on Oct.2.
no images were found