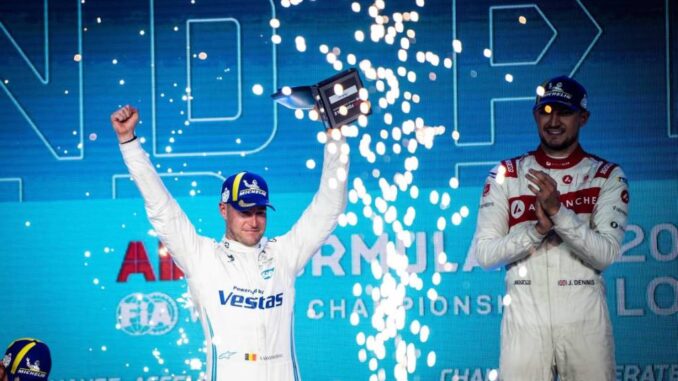 Heading into the final race weekend of Season 8 and an inaugural Hana Bank Seoul E-Prix double-header, Mercedes-EQ's Stoffel Vandoorne leads by 36 points.
Last season only 17 points separated the top 6 going into the finale. This time around there's more than double that just between the top three drivers. This season has given us Formula E racing like we've never seen it before.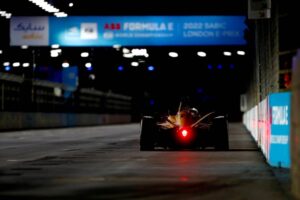 There are 58 points up for grabs for any given driver in Seoul, meaning mathematically there are still four capable of winning the championship, Jean-Eric Vergne in the DS Techeetah is the fourth of those drivers, only narrowly scraping himself into unlikely contention by a single point, after four races without scoring a single point, right at the crucial moment.
Jaguar TCS Racing's Mitch Evans and Edoardo Mortara (ROKiT Venturi Racing) in second and third have their work cut out given that they are more than a race win's worth of points – 36 – behind Vandoorne.
For almost three months, this season's championship has been a four-way battle. Vandoorne and Mortara yoyoing the top spot and second place between them with Evans and Vergne fighting in-behind. But the drama of the London races has most likely transformed this into a three way fight.
But how did this situation come to be?
In the rollercoaster that is a Formula E season, the twists and turns rain havoc on the leaderboard. Consistency is always king and Vandoorne wears the crown. His run of 13 points-scores in a season is a new record and he has failed to tally on just one occasion this season.
Despite his humble replies in press conferences and interviews – emphasising, with reason, that everything's still on the table given this is Formula E – Vandoorne is the driver to beat going into the season finale. Outside of Evans' fifth-placed finish in the first of the races in London a fortnight, the Belgian was the only real competitive threat of the standings top four in London. He went into the weekend with an 11-point lead and came out of it 36 ahead – a commanding advantage with two rounds in play.
This has very much been the story of Vandoorne's campaign, capitalising on the mistakes of rivals and staying competitive when others are struggling. Let's not forget that he only has one win this season in Monaco, but the continued big point scoring and podiums have kept him in the fight.
Only one non-scoring race all season and back to back top four finishes in the last four rounds. All that remains for him to do now is convert the string of results and performances into a World Championship title – back-to-back for Mercedes-EQ.
Team orders?
Vandoorne could have been in an even stronger position going into the final races if Mercedes-EQ's team orders were implemented in London, but Nyck de Vries resisted over Team Radio, stating Vandoorne had enough of a points lead as it stood.
No reigning champion likes to hand over track position but if the title race comes down to a handful of points, calls like that could be vital – and it'll be for Team Principal Ian James to negotiate with his drivers between here and the finale. In the crazy world of Formula E racing, anything can happen and every point counts.
The contenders: Mitch Evans (Jaguar TCS Racing)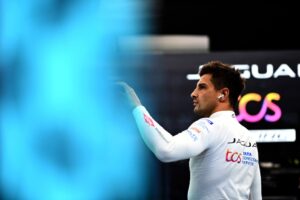 Failing to capitalise effectively on the poor performances of Mortara and Vergne in the past few outings, Jaguar and Mitch Evans' chance at glory is slipping from their grasp but it's not done yet.
The extra time DNF in London following one of Evans' most promising season yet – no driver has won more races (three) – may have cost them a shot at the championship by the same cruel fate and component issue that did the same last season in the Berlin finale.
Without the inverter malfunction, Evans was on track to minimise Vandoorne's lead to just 22 points going into Seoul, having climbed up 10 positions from his grid slot. The dip in one-lap pace during qualifying once again left Evans with a lot of work to do during the race, pushing the car on the unforgiving, physically demanding London circuit.
The only way Evans is going to keep this dream alive is to qualify well in both races in Seoul and outscore Vandoorne and Mortara by a decent margin. Leaving it until the race to make up positions and points, although the method that got Evans into second in the standings, has far greater risk with only two races to go and Vandoorne's points lead. We've seen him do it before in Rome this season but the stakes are much higher this time around.
The contenders: Edoardo Mortara (ROKiT Venturi Racing)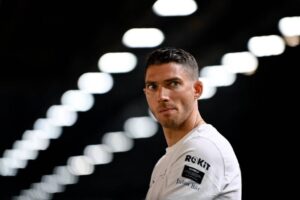 Only five points behind Evans is Mortara, with a remote title hope. Minimal points in New York and lack of scoring finishes in London has not helped his chances.
A return to the calm and collected approach that has seen Mortara win three races this season, level with Evans as a season high, is what's needed to get ahead of the Kiwi and keep the pressure on Vandoorne.
The contenders: Jean-Eric Vergne (DS Techeetah)
Four consecutive races with no points has undone the hard work and consistency seen by Jean-Eric Vergne in the first 10 races of the season as his title hopes seem a stretch and in need of a miracle.
Embarking on his worst run without scoring in his entire time in Formula E to-date could not have come at a worse time. Mid-season it looked like he was assembling a real charge to take it to then-leader Mortara and Vandoorne.
Even without the title, Vergne will want a strong, positive end to the season and his experience as a Formula E driver may pay off on a new circuit where no one has any prior track time. Moments like these are when the Frenchman has made a name out of soaking up the pressure and coming alive – that will all start with how well he can qualify in Seoul.
The Teams' running
In the Teams' World Championship, Mercedes-EQ are in the perfect position to seal back-to-back titles. Vandoorne's consistent point hauls, helped by the two race wins, plus a smattering of points and occasional podiums from reigning champion Nyck De Vries, has made that possible.
The Teams' title is by no means wrapped up but there's a reasonably comfortable 36-point cushion for Mercedes ahead of ROKiT Venturi Racing and DS Techeetah behind. Eleven points stand between second and third, in a battle that will no doubt continue until the final chequered flag.
Lucas Di Grassi (ROKiT Venturi Racing) and Antonio Felix Da Costa (DS Techeetah) are keeping their respective teams' dreams alive, seemingly swapping roles with their teammates in the last few races, who have contributed the majority of both teams' points.
We can definitely expect to see some team strategy and orders coming into play in these final two races with the teams at the top trying to maximise their chances of winning, or at least, finishing as high as possible. Points mean prizes, or in this case extra cash to invest into next season, and going into a new generation of car with more funds at your disposal is huge for all of the teams competing next season.
Source: Formula E