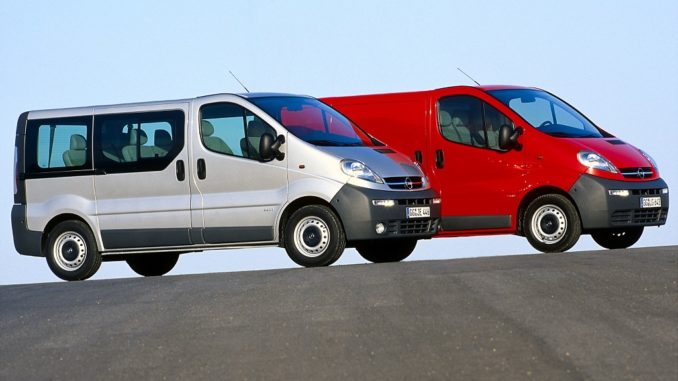 Opel Vivaro compie vent'anni e ora si rinnova con la versione Vivaro-e, il primo veicolo commerciale completamente elettrico della Casa tedesca.
La presentazione della prima serie è avvenuta al Salone di Francoforte del 2000. Venti anni nel corso dei quali questo commerciale di classe media si è fatto apprezzare nelle attività di consegna di beni e per il trasporto persone a breve e medio raggio, grazie ad un'amplissima offerta di carrozzerie (furgone chiuso e doppia cabina, minibus, pianale cabinato per allestimenti) e di misure di passo e di altezze differenti realizzate direttamente dal costruttore, ma anche di allestimenti opera di carrozzieri specializzati, anche italiani.
Alla prima generazione il premio "International Van of the Year"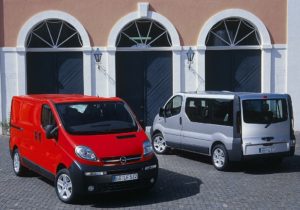 La prima generazione (Vivaro-A), introdotta nel 2001 in sostituzione del precedente Opel Arena, si segnalava a prima vista per l'originalità della linea, caratterizzata dall'inconfondibile "jumbo roof" – un rialzo del tetto in corrispondenza della cabina studiato per ospitare meglio persone di alta statura – per il comportamento su strada e la maneggevolezza simili a quelli di un'autovettura, la brillantezza e i bassi consumi delle motorizzazioni a iniezione diretta, la grande funzionalità e i costi di gestione contenuti. Due erano i propulsori inizialmente disponibili, entrambi di 1.870 cc – un Diesel aspirato da 82 CV e un turbodiesel da 101 CV – abbinati rispettivamente a cambi manuali a 5 e a 6 marce. Ad esse si aggiunsero, nel 2002, un 2,0 litri a benzina 16 valvole da 120 CV e l'anno seguente un Diesel 16 valvole di 2,5 litri da 133 CV e infine, nel 2004, tre turbodiesel common rail sempre di 1,9 litri di cilindrata.
Nel frattempo, nel Gennaio 2002, Opel Vivaro veniva eletto "International Van of the Year", precedendo il più piccolo Opel Combo, da una giuria formata da giornalisti specializzati di venti Paesi europei, invitati a valutare dieci diversi veicoli commerciali di massa complessiva (MTT) non superiore a 3,5 tonnellate. Ognuno di essi era stato esaminato attentamente e provato per molti giorni nelle tipiche condizioni di utilizzo con un carico pari al 75% della loro portata massima.
Opel Vivaro metteva così un altro trofeo nella sua già ricca bacheca dove già figuravano i premi "Van of the Year 2002" in Danimarca e in Irlanda, "Miglior Nuovo Furgone" in Gran Bretagna e il "Gold Award" come "Miglior Piccolo Furgone". Le giurie di tutti questi premi hanno apprezzato la linea personale, la funzionalità e la grande economicità di Opel Vivaro. Oltre ad avere una portata fino a circa 1.200 kg e una capacità di carico fino a 6 metri cubi, Opel Vivaro presentava altre caratteristiche di rilievo, come una grande facilità di riparazione e di manutenzione. L'assetto molto ben bilanciato di questo veicolo a trazione anteriore si traduceva in livelli di sicurezza, maneggevolezza e comfort di marcia paragonabili a quelli delle autovetture.
Con la seconda generazione sparisce la "gobba"
La seconda generazione, che debuttò sul mercato nell'agosto del 2014, era caratterizza da un importante restyling con il quale spariva il "jumbo roof" in corrispondenza della cabina guida e la carrozzeria assumeva un andamento più lineare, mentre il frontale era completamente rivisitato con l'arrivo di nuovi gruppi ottici dal disegno più spigoloso. Quattro erano le motorizzazioni previste, tutte derivate da uno stesso turbodiesel Common Rail di 1.598 cc, la cui potenza variava da un minino di 90 CV a un massimo di 116 CV .C'era poi un 1.6 CDTI Biturbo con doppia sovralimentazione disponibile con potenze di 120 CV e di 140 CV.
Opel Vivaro-C su piattaforma PSA
La terza generazione di Opel Vivaro arriva nella Primavera 2019 sulla base della piattaforma EMP2 di PSA, così come nuova Opel Zafira Life e Grandland X. Al debutto la gamma Opel Vivaro-C è stata equipaggiata con 5 diversi turbodiesel Common Rail realizzati sulla base di due unità a gasolio: il 1,5 litri da 102 CV (75 kW) e da 120 CV (88 kW) e il 2,0 litri da 122 CV (89 kW), 150 CV (110 kW ), 177 CV (130 kW). Quest'ultimo è abbinato a una trasmissione automatica a 8 rapporti e gli altri a un cambio manuale a 6 marce. La terza generazione di Opel Vivaro è disponibile con carrozzeria furgone, doppia Cabina e trasporto persone in 2 varianti di passo e 3 di lunghezza La produzione ha luogo nello stabilimento inglese di Luton, in Gran Bretagna, e nello stabilimento russo di Kaluga per il solo mercato locale.
Fonte: Opel Italia
NextGEN Gallery
Modifica
Cancella