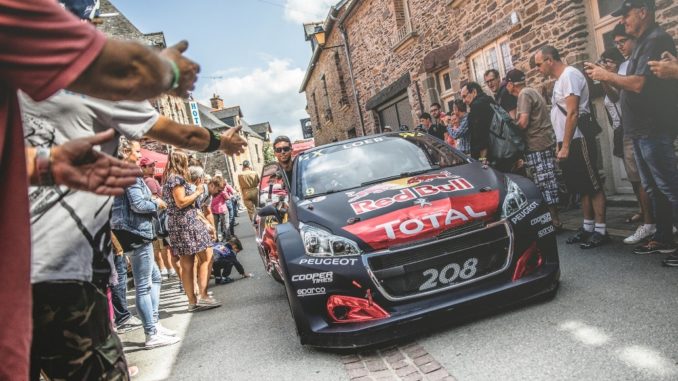 Due anni fa, a Riga, Sébastien Loeb aveva ottenuto il suo primo successo nel rallycross con Peugeot ed ora il Team Peugeot Total fa ancora rotta verso la Lettonia.
Timmy Hansen (SWE) performs during the FIA World Rallycross Championship 2018 in Loheac, France on September 2, 2018

A Riga, per la nona tappa del Campionato del Mondo WRX 2018 il prossimo weekend, Timmy Hansen vuole aggiungere una vittoria assoluta ai 2 podi già conquistati in questa stagione, per confermare così le prestazioni della Peugeot 208 WRX Evo e ripagare l'incessante lavoro della squadra tecnica di Peugeot Sport.

La gara del WRX a Lohéac, dopo la pausa estiva, ha permesso al Team Peugeot Total di individuare nuove aree di lavoro per ottimizzare la competitività della Peugeot 208 WRX Evo e delle sue evoluzioni tecniche, che sono state introdotte in gara solo 2 mesi fa. Se il risultato ottenuto nella gara di casa non è stato all'altezza delle aspettative – alla fine di una finale da antologia molto combattuta – ha comunque rafforzato la determinazione della squadra a lottare per un posto sul podio e per ottenere delle vittorie: l'obiettivo dichiarato da Peugeot per il suo 1° anno di programma ufficiale nel World RX.

Mechanics are working on the Peugeot 208 WRX during the FIA World RallyCross Championship in Loheac, France on August 31, 2018

Il circuito di Bikernieki, creato nel 1962, si snoda parallelo all'omonima foresta di pini ed è situato a soli 15 minuti dal centro della capitale Riga – una prossimità che gli assicura un'eccezionale affluenza di pubblico, soprattutto perché il WRX da tempo si impone come una delle discipline più popolari dell'automobilismo. Il tracciato, lungo 1,294 chilometri, è costituito al 40/60% da terra e da asfalto e offre una bella varietà di curve. Il record sul giro (45,831 secondi) è detenuto dall'americano Ken Block.
A quattro manche dalla fine della stagione, il Team Peugeot Total è 3° nella classifica Team, mentre Timmy Hansen e Sébastien Loeb occupano rispettivamente il 4° e il 6° posto della classifica Piloti, con soli 9 punti di distacco fra il 3° e il 6°. Il pilota junior Kevin Hansen è 8°.