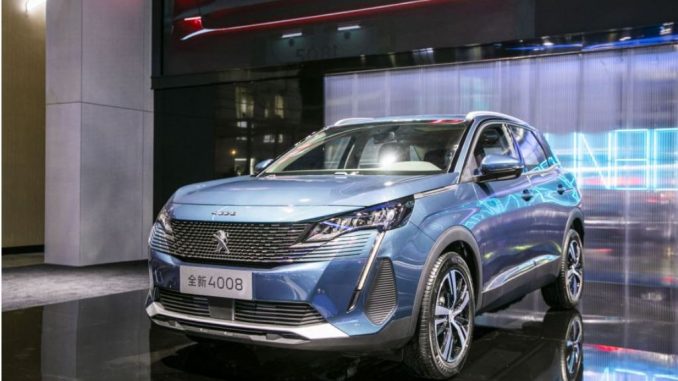 Peugeot riafferma il suo posizionamento come marchio premium progressista in Cina e al Salone di Guangzhou porta avanti la sua strategia di prodotto specifica e le azioni orientate al cliente.
Al Guangzhou Auto Show, che si tiene dal 19 al 28 novembre 2021, Dongfeng Peugeot accoglie i visitatori nel padiglione 3.1 del Canton Fair Complex con una spettacolare scultura del Leone in formato XL, 8 modelli, tra cui 2 serie speciali create con la complicità dei suoi clienti, animazioni, un'area dedicata all'arte floreale, una boutique e aree relax.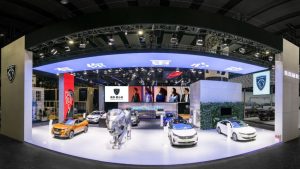 Accanto ai nuovi SUV 4008 e 5008, è esposta la serie speciale 4008 Co-Creation, progettata in collaborazione con i clienti cinesi. Il SUV 2008 THE ONE, al prezzo di 99.700 Yuan, è riservato alle vendite online. La 508 L, Model Year 2022, rinnova l'offerta nel segmento delle berline insieme alla 408. Il SUV 4008 PHEV (4 ruote motrici) e la berlina 508 L PHEV rappresentano l'offerta elettrificata, con tecnologia ibrida plug-in. Dongfeng Peugeot interagisce anche con la sua comunità di fan attraverso la co-creazione di eventi e offre ai suoi clienti un nuovo sistema di vendita online.
Una gamma rinnovata, in linea con le aspirazioni dei clienti cinesi
La serie speciale 4008 Co-Creation, progettata da Dongfeng Peugeot con i suoi clienti, è la principale novità nello stand della Casa del Leone. Il suo nuovo colore metallizzato Iceberg Blue e i sedili in pelle rossa con cuciture geometriche si rivolgono ai clienti alla ricerca di modernità e dinamismo.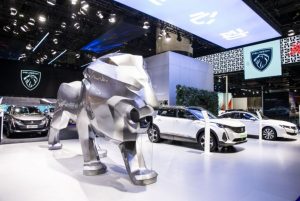 I SUV 4008 e 5008, presentati nell'aprile 2021, adottano il design delle versioni GT europee con la firma dei proiettori anteriori a LED verticali. Il loro design, la qualità di realizzazione, il dinamismo e la connettività soddisfano le aspirazioni dei clienti cinesi. La versione ibrida plug-in del SUV 4008 PHEV, che dispone di 4 ruote motrici ed eroga 300 CV, associa alte prestazioni e grande efficienza.
La berlina 508 L "Model Year 2022" migliora ulteriormente le sue caratteristiche senza modificare il prezzo. Il touchscreen centrale da 10 pollici, elemento chiave del Peugeot i-Cockpit®, è stato esteso a tutta la gamma. Il sedile del conducente regolabile elettricamente offre ora due posizioni memorizzabili.
La serie speciale SUV 2008 THE ONE, riservata alla vendita on-line
Il SUV 2008, anch'esso rinnovato di recente (fine 2019), è disponibile in una serie speciale denominata THE ONE. Presentato per la prima volta a Guangzhou, 2008 THE ONE afferma l'ingresso di Dongfeng Peugeot nelle vendite online, inaugurato il 25 ottobre. THE ONE riflette l'unicità di questa serie, il cui prezzo di 99.700 Yuan è molto competitivo nel mercato SUV dei marchi nati da "Joint-Venture". 2008 THE ONE si rivolge a una clientela giovane, che desidera acquistare un'auto online facilmente, a un prezzo interessante, senza negoziare.
Tramite l'app Dongfeng Peugeot Lion King Assistance, i clienti ordinano la loro auto, possono contare su di un finanziamento a 3 -5 anni con un basso tasso d'interesse (pagamento minimo giornaliero di 56 Yuan dopo aver versato un acconto del 20%) e scelgono il luogo di consegna.
Dongfeng Peugeot concentrato sulla customer experience
Dongfeng Peugeot ha co-creato eventi con la sua community di fan dopo il rinnovo della sua identità di marca all'inizio del 2021.
La sfida di Tik Tok "#Miraculous Move Knowing Me", ha recentemente attirato l'attenzione delle celebrities e ha totalizzato oltre 1,55 miliardi di visualizzazioni.
L'app My Peugeot è dedicata ai clienti e l'app Lion King Alliance alle vendite online. Il sito web del Comitato dei Fan, infine, raccoglie i loro suggerimenti per lo sviluppo del Marchio.
Fonte: Peugeot Italia