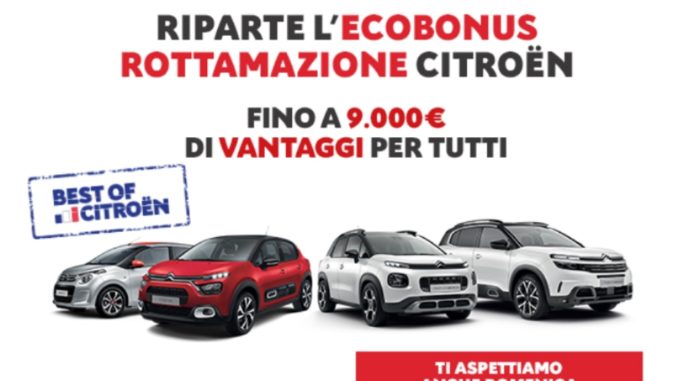 Si chiama "Ecobonus Rottamazione" l'operazione lanciata da Citroën, sempre al fianco delle persone in questo nuovo anno.
Dopo l'approvazione della Legge di Bilancio 2021, Citroën garantisce i benefici degli incentivi statali, senza alcuna eccezione e senza limiti di CO2, sulla sua intera gamma di prodotti, composta da autovetture e veicoli commerciali, sia termici che elettrificati.
Per quanto riguarda le autovetture, con l'operazione "Ecobonus Rottamazione Citroën", il beneficio della rottamazione statale si estende a tutti i modelli dell'intera gamma, con incentivi complessivi fino a 9.000 euro, a partire dalla piccola citycar Citroën C1 fino ad arrivare alla monovolume in grado di ospitare 9 persone, Citroën SpaceTourer, passando dalla best seller Citroën C3, da Nuova Citroën C4, fino alla gamma SUV, composta da SUV Citroën C3 Aircross e SUV Citroën C5 Aircross.
In merito all'acquisto di Veicoli Commerciali, Citroën rafforza i vantaggi della rottamazione per veicoli ante Euro 4 offrendo un incentivo complessivo fino a 17.000 euro. Un'iniziativa molto vantaggiosa che riguarda tutti i modelli, da Citroën Berlingo, a Citroën Jumpy, fino a Citroën Jumper.

Citroën rinnova l'Ecobonus anche per tutti i modelli della sua gamma elettrificata, un'offerta ampia e diversificata composta da Autovetture e Veicoli Commerciali, con cui la Marca risponde alle nuove esigenze di mobilità. A cominciare da SUV Citroën C5 Aircross Hybrid Plug-In, il primo modello ibrido plug-in della Marca, seguito da ë-SpaceTourer, la monovolume fino a 9 posti in versione 100% elettrica e infine Nuova Citroën ë-C4 – 100% ëlectric, la vettura compatta di nuova generazione che offre una mobilità elettrica, tecnologica e moderna, al servizio del comfort e della versatilità di utilizzo. Tra i Veicoli Commerciali, Nuovo ë-Jumpy può beneficiare di un contributo complessivo fino a 14.000 euro. Eletto "International Van of the Year 2021", grazie alla sua motorizzazione elettrica con autonomia fino a 330 km (nel ciclo di omologazione WLTP), Nuovo ë-Jumpy offre ai professionisti una grande versatilità di utilizzo e la possibilità di accedere liberamente alle zone urbane a traffico limitato, contribuendo a salvaguardare la qualità dell'aria e ottimizzare i costi di utilizzo.
"Ecobonus Rottamazione" rappresenta un'iniziativa molto vantaggiosa nei confronti dei Clienti, disponibile per tutti, per l'acquisto di un nuovo prodotto Citroën. Ognuno potrà così mettersi al volante del veicolo desiderato della Marca del Double Chevron, qualsiasi esso sia, senza alcuna eccezione.
Tra le novità introdotte dalla Legge di Bilancio 2021, per la prima volta, sono previsti incentivi per l'acquisto di veicoli nuovi di categoria N1 o autoveicoli speciali di categoria M1, differenziati in base alla Massa Totale a Terra del veicolo, all'alimentazione ed all'eventuale rottamazione di un veicolo della medesima categoria fino ad Euro 4/IV.
Fonte: Citroën Italia