Michael Lohscheller e Xavier Duchemin ritirano il premio di AUTOBEST 2019 che premia Opel Combo Life come il "Best Buy Car of Europe 2019".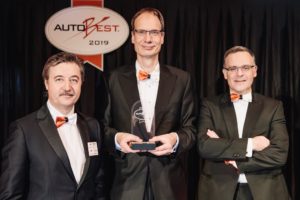 Trentuno giornalisti specializzati provenienti da 31 paesi hanno votato nel corso della cerimonia ufficiale svoltasi a Bruxelles. Secondo la giuria, nessun'altra vettura ha mostrato un rapporto qualità prezzo paragonabile. Michael Lohscheller, CEO di Opel, e Xavier Duchemin, Managing Director Sales, Aftersales and Marketing si sono recati in Belgio per ritirare il premio.
I clienti e i giornalisti sono rimasti molto colpiti da Combo Life – ha dichiarato Michael Lohscheller nel corso della premiazione. Combo Life è estremamente flessibile, ha un elevato livello di comfort e monta numerose tecnologie innovative, senza rivali nella categoria. Opel Combo Life ha un ruolo fondamentale nella nostra offensiva di prodotto, che proseguirà quest'anno e il prossimo, come evidenzia il titolo di 'Best Buy Car of Europe'.

Le famiglie, gli amanti dell'aria aperta e i professionisti si aspettano che l'auto con il miglior rapporto qualità prezzo sia in grado di risolvere tutti i loro problemi quotidiani. Il premio assegnato da AUTOBEST dimostra che il nuovo Combo Life è il partner ideale – ha aggiunto Xavier Duchemin.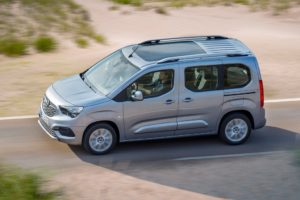 Opel Combo Life monta tecnologie innovative come il Cruise Control attivo, il Sistema per la prevenzione dei colpi di sonno (Driver Drowsiness Alert), la telecamera posteriore con visione a 180 gradi, lo Head Up Display e il Sistema di protezione della fiancata Flank Guard. Il nuovo modello della Casa di Rüsselsheim unisce il comfort e le caratteristiche dinamiche di un'automobile e la spaziosità e la versatilità di un veicolo per il trasporto di passeggeri. La giuria ha tenuto inoltre conto di criteri come il costo di proprietà e l'offerta di assistenza della rete di concessionari. Gli esperti si sono dimostrati convinti da tutte le soluzioni adottate per la quinta generazione di Combo.
Con il titolo di "Best Buy Car of Europe 2019", Combo Life si affianca agli altri modelli Opel premiati. Negli ultimi anni, infatti, il costruttore di Rüsselsheim ha vinto il premio AUTOBEST per ben due volte: Opel Corsa ha infatti conquistato il titolo nel 2007 e nel 2015. AUTOBEST assegna il premio di "Best Buy Car of Europe" dal 2000.
Fonte: Opel Italia