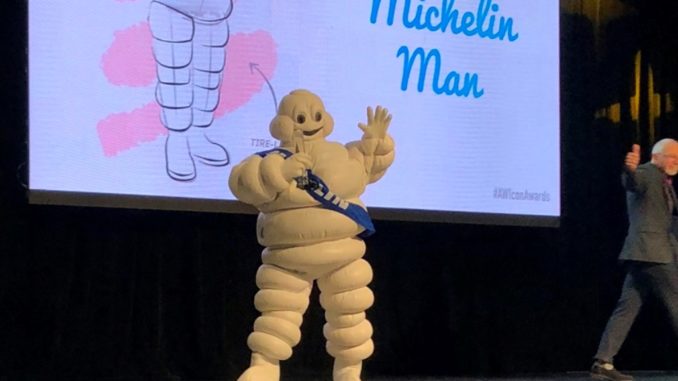 Bibendum, il simpatico e mitico Omino Michelin, è stato eletto "Icon of the Millennium" (Icona del Millennio) dall'Advertising Week.
Advertising Week è leader globale USA nel campo degli eventi per i professionisti di marketing, brand, advertising e technology.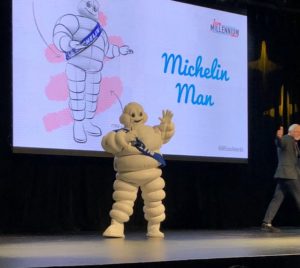 Il riconoscimento è stato conferito all'Omino Michelin il 1° ottobre a Times Square, a New York, nell'anno in cui Bibendum compie 120 anni.
Adeline Challon-Kemoun, Direttore Marche, Sviluppo Sostenibile, Comunicazione e Affari Pubblici del Gruppo Michelin, ha commentato:
Dalla sua nascita, nel 1898, grazie alla matita di O'Galop, Bibendum è più di un simbolo pubblicitario. Impersona tutto il Gruppo Michelin, i suoi valori, il suo impegno e la sua missione. È lui il portavoce del Gruppo nel campo del progresso della mobilità, comunica i messaggi, consiglia tutti gli utenti della strada e li accompagna in ogni viaggio.
Uno dei marchi più antichi, personaggio noto mondialmente per simpatia, l'Omino Michelin ha contribuito significativamente al raggiungimento dell'11° posto di Michelin nella graduatoria mondiale del Reputation Institute.
Da 120 anni, Bibendum è un attore protagonista del successo di Michelin, leader mondiale nel campo della mobilità, per cui il Gruppo sviluppa pneumatici e realizza carte, guide, siti web, servizi e soluzioni digitali e app. Dalla nascita, l'Omino Michelin ispira simpatia e affidabilità, ed è il simbolo dello stretto legame tra Michelin e i suoi clienti.
Fin dalla sua fondazione, nel 1889, la missione di Michelin è quella di contribuire al progresso della mobilità di beni e persone attraverso la produzione e la commercializzazione di pneumatici per tutti i tipi di veicoli, dalle due ruote alle macchine movimento terra. Inoltre, Michelin accompagna il viaggiatore con un'ampia gamma di carte e atlanti stradali, guide turistiche, guide alberghi-ristoranti, il sito Internet viamichelin.it e app e sviluppa materiali ad alta tecnologia per l'industria della mobilità.
Il Gruppo, la cui sede si trova a Clermont-Ferrand (Francia), è presente in 171 Paesi e ha 70 siti produttivi in 17 paesi diversi, che hanno prodotto 190 milioni di pneumatici (2017). Vi lavorano oltre 114.000 persone. Il suo Centro di Tecnologia, cuore del settore di Ricerca e Sviluppo, ha sedi in Europa, America del Nord e Asia. Michelin investe circa 700 milioni di euro l'anno in Ricerca e Sviluppo, strategia alla base di tutte le sue innovazioni.