Il Nuovo SUV Citroën C5 Aircross è il nuovo modello di punta della marca, il cui top of the line è la versione equipaggiata con il motore PureTech 180 S&S con cambio automatico EAT8.
Il Nuovo SUV Citroën C5 Aircross offre un design unico, tecnologie di avanguardia e un comfort di riferimento. A questo, aggiunge una gamma di motorizzazioni Euro 6.2 efficienti e performanti di ultimissima generazione, ideali per i tragitti quotidiani come per un weekend fuori porta o per le vacanze, con il cambio manuale a 6 rapporti o il cambio automatico EAT8 a 8 rapporti, per un piacere di guida di alto livello e prestazioni eccezionali.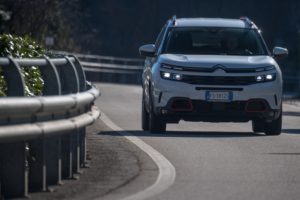 Nei primi 4 mesi dell'anno, nel mercato dell'auto in Italia, i motori con alimentazoine a benzina hanno fatto registrare una crescita complessiva del 24%.
Il Nuovo SUV Citroën C5 Aircross con i motori a benzina PureTech, offre una risposta concreta a questa tendenza del mercato e in particolare, abbinato al motore più performante, il PureTech 180 S&S EAT8, è la soluzione ideale per i Clienti che cercano prestazioni e brio ma senza rinunciare a efficienza e rispetto per l'ambiente.
A dimostrazione delle sue caratteristiche di potenza, efficienza e modernità, il motore benzina PureTech da 180 cavalli verrà utilizzato nella versione ibrida ricaricabile del Nuovo SUV Citroën C5 Aircross, primo modello della Marca con tecnologia Plug-in Hybrid PHEV, da inizio 2020.
Motore PureTech 180 S&S EAT8: tecnologia d'avanguardia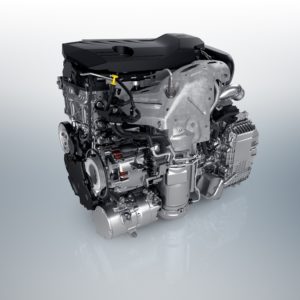 La motorizzazione più performante del Nuovo SUV Citroën C5 Aircross è la versione di punta della serie PureTech: il PureTech 180 S&S in abbinamento al cambio automatico EAT8 ad otto rapporti.
Si tratta di un quattro cilindri, turbo benzina, di 1.598 cc, con distribuzione a 16 valvole ad alzata variabile (VVL) per quelle di aspirazione e con doppio variatore di fase (VVT), sia in aspirazione che allo scarico.
E' un motore compatto (la lunghezza è, infatti, di 702 mm, la larghezza di 612 mm e l'altezza di 708 mm) e leggero: il suo peso, comprensivo di olio e frizione, è di 110 chili.
La potenza di punta è di 133 kW (181 CV) a 5500 giri/min, per una coppia massima di 250 Nm a 1750 giri/min..
Particolare attenzione è stata posta dai tecnici per fare di questo motore un'unità sempre più compatibile con l'ambiente, in linea con gli obiettivi della famiglia PureTech e con le future normative sulle emissioni del 2020. Le emissioni di CO2 sono comprese tra 129 e 132 g/km in base alle dimensioni degli pneumatici. I consumi su misto, con pneumatici da 19'', sono pari a 5,7 l/100 km.
Al conseguimento di questi risultati, contribuisce l'abbinamento con il cambio automatico EAT8. Progettato per essere associato alle motorizzazioni in linea con la normativa Euro 6.2, questo cambio di nuova generazione permette di ridurre i consumi fino al 7% rispetto all'EAT6 grazie al passaggio da 6 a 8 rapporti; a una riduzione del peso fino a 2 kg, rispetto all' EAT6; alla modalità "freewheeling" quando l'auto è in rilascio. Il suo inserimento è possibile quando non viene rilevata nessuna pressione sul pedale dell'acceleratore e del freno.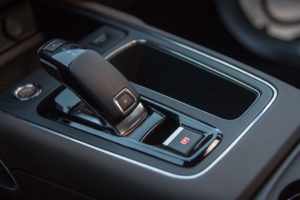 La nuova messa a punto del cambio EAT8 offre un comfort di utilizzo e una piacevolezza di inserimento dei rapporti eccezionali. Il convertitore di coppia, reso più fluido, offre, infatti, un grande piacere di guida in tutte le condizioni. Infine, questo cambio richiede una manutenzione davvero esigua, perché non è necessario alcun intervento o cambio dei liquidi nel programma di manutenzione. L'olio a bassa viscosità è garantito per tutta la durata di vita del veicolo.
Il Nuovo SUV Citroën C5 Aircross PureTech 180 S&S EAT8 è disponibile negli allestimenti Feel e Shine ad un prezzo, chiavi in mano, rispettivamente di 33.200 euro e di 35.700 euro.
Fonte: Citroën Italia