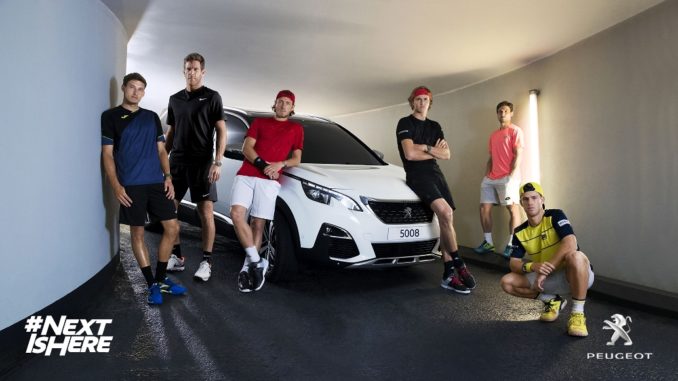 Il profondo rapporto di partnership tra Peugeot e Roland Garros dura da ormai 34 anni e la casa del leone è di nuovo protagonista dietro le quinte di questo prestigioso torneo che è in corso di svolgimento a Parigi fino al 10 giugno.
Peugeot lancia una nuova campagna di comunicazione internazionale e quest'anno fa leva su una squadra di 11 ambasciatori internazionali.
Con una flotta di circa 225 veicoli, composta fondamentalmente da Peugeot 3008 e 5008, la Casa del Leone assicura il trasporto ufficiale dei giocatori, dei VIP, dei giornalisti e del pubblico, che quest'anno ha scoperto un nuovo Villaggio nel cuore del Roland-Garros.
Una nuova campagna di comunicazione internazionale
Peugeot lancia una campagna di comunicazione internazionale stampa e digitale. La nuova campagna pubblicitaria "Drive To Tennis" abbina alla perfezione il tennis e le novità prodotto del marchio. Il film è on-line sul sito www.peugeot.com
Anche quest'anno Peugeot rinnova l'esperienza Road To Roland-Garros, in collaborazione col prestigioso torneo parigino. In queste due settimane di torneo, i giocatori e Brand Ambassador del marchio si stanno avvicendando a bordo di una Peugeot 5008 per rispondere alle domande di Sandy Heribert, una giornalista sportiva franco-britannica, le cui interviste incentrate su domande sportive e conviviali creano una web-serie visibile su www.youtube.com/user/ROADTOROLANDGARROS
Prestigiosi ambasciatori internazionali
Peugeot riunisce una squadra internazionale di undici giocatori per accompagnare la sua strategia di comunicazione nel mondo del tennis internazionale. La squadra Peugeot 2018 del Roland-Garros è composta da:
Lucas Pouille (16° ATP), Gilles Simon (75° ATP) e Jérémy Chardy (86° ATP) per la Francia,
Alexander Zverev (3° ATP) per la Germania,
Pablo Carreño (11° ATP), David Ferrer (42° ATP) e Fernando Verdasco (35° ATP) per la Spagna,
Jamie Murray (11°in doppio ATP) per il Regno Unito,
Juan Martin Del Potro (6° ATP), Leonardo Mayer (43e° ATP) e Diego Schwartzman (12° ATP) per l'Argentina.
Una maggiore presenza di Peugeot in Stadia e un nuovo Villaggio nel cuore del Roland- Garros è la Nuova Peugeot 508 sarà commercializzata il prossimo mese di settembre in Francia e a metà ottobre in Italia. I visitatori possono scoprirla già ora, nel cuore del Roland-Garros.
Il Villaggio del Roland-Garros quest'anno si rinnova. Luogo privilegiato dalle decorazioni raffinate, questo spazio elegante, in cui Peugeot dispone di una zona esclusiva, farà vivere un'esperienza unica ai visitatori.