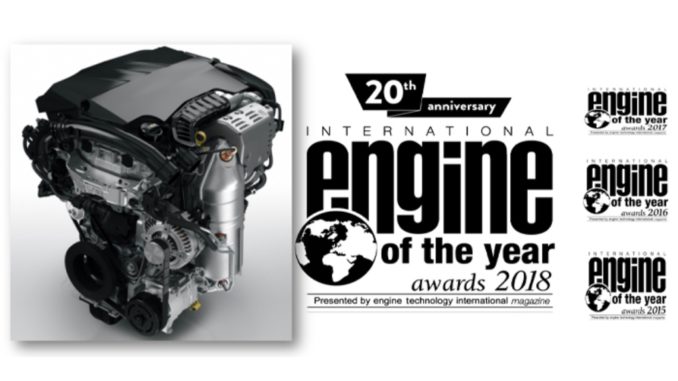 La giuria della 20ª edizione dell'International Engine of the Year Awards ha conferito a Stoccarda per il 4°anno consecutivo il premio motore dell'anno al motore benzina 3 cilindri Turbo Pure Tech 110 S&S e 130 S&S nella categoria da 1L a 1.4L.
La famiglia di motori 3 cilindri benzina vanta 210 brevetti depositati di Groupe PSA. La nuova generazione del motore PureTech propone vantaggi per prestazioni, consumi ed efficienza.
Permette infatti:
Di ridurre i consumi in media del 4% rispetto alla generazione precedente;
Di migliorare il brio1 grazie all'ottimizzazione del turbocompressore (aumento di coppia più veloce del 20 % a partire dai 1500 giri/minuto);
Una riduzione del 75% delle emissioni di particolato con il GPF2 e il rispetto con 3 anni di anticipo del fattore di conformità RDE3 di 1,5 fissato dalla normativa europea 2020;
Un motore più compatto, per adattarsi alla nuova piattaforma CMP4 destinata alle city car, alle berline della fascia centrale della gamma e ai SUV compatti.
Questa nuova generazione lanciata nel 2017 sulla nuova Peugeot 308 è destinata a equipaggiare i veicoli di Groupe PSA per un centinaio di applicazioni, in oltre 70 Paesi. Queste motorizzazioni rispettano la norma europea Euro 6.d-temp e la norma cinese China 6b.
Il motore 3 cilindri PureTech viene attualmente prodotto in fabbriche francesi (Française de Mécanique a Douvrin nel Pas de Calais e Trémery, nel dipartimento della Mosella) e cinesi (Xiang Yang). Insieme al raddoppio della capacità di produzione dei siti francesi nel 2018, anche le fabbriche di Tychy in Polonia e di Szentgotthárd in Ungheria produrranno il motore PureTech, rispettivamente nel 2019 e nel 2020.
Per l'occasione Alain Raposo, Direttore Catene di trazione e Telai di Groupe PSA, dichiara:
Siamo orgogliosi di questo prestigioso riconoscimento per il 4°anno consecutivo, a dimostrazione della competenza dei nostri team di sviluppo. Questa motorizzazione equipaggia oggi la maggior parte dei nostri veicoli e sta riscuotendo un reale successo presso i nostri clienti. La competitività e l'efficienza della nostra gamma benzina e in particolare del nostro motore 3 cilindri PureTech sono apprezzate a livello mondiale.
1 Brio: tempo di risposta del motore
2 Filtro antiparticolato benzina (Gasoline Particulate Filter)
3 Real Driving Emissions
4 Common Modular Platform
Motore benzina 3 cilindri Turbo PureTech 110 e 130cv